Kpakpo Allotey to be on cruse-control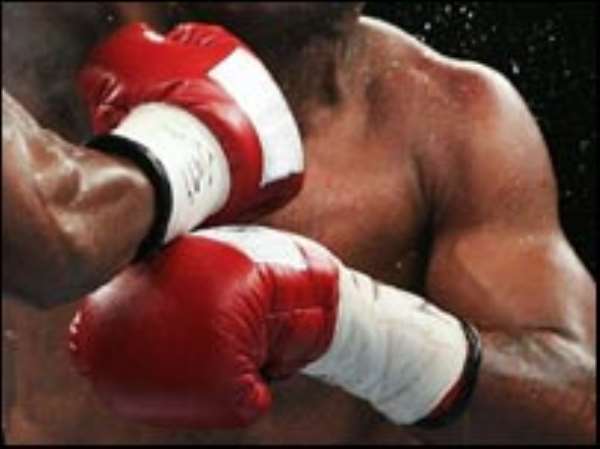 Accra, Nov. 30, GNA - Ghana's Kpakpo "Bukom Flash" Allotey is urging his teeming fans to throng the Azumah Nelson Sports Complex early on Friday evening as he would determine the pace and duration of annexing the vacant African Boxing Union (ABU) Lightweight fight against Beninios Theodore Lokossou.
Addressing a pre-fight press conference in Accra on Thursday, Kpakpo, one of the country's budding boxing stars said his opponent stands no chance as he would decide which round to stop him. He said the stakes are too high for him to fail the nation saying, that although it was not in his character to swank before fights, "this Beninois will not be a stumbling block to my world title ambitions." The 12 round vacant ABU Lightweight fight is part of an eight-bout event being put together by Obric Sala Promotions dubbed: "The Eruption Nite".
Lokossou, who is seeking to unify the belts in the lightweight division as he already holds the African Boxing Council (ABC) title, said through an interpreter: "I did not come all the way from Benin to subject myself to Allotey's dictates and visit the canvas at his beck and call."
He warned Kpakpo not to delude himself my thinking that he was going to win the bout via knockout adding: "I'm not the kind of boxer who is easily dropped."
Also on the bill, is an eight-round mandatory final Commonwealth Welterweight eliminator between Joshua 'Bokum Tsatsu' Okine and Kola Abiola of Nigeria.
Okine said he leaves everything to the ring to decide. Crowd favourite, Brimah Komoko, a.k.a Bukom Banku has promised to use his fight against Nigeria's Baba Tunde Lawal in the light heavyweight division as a stepping-stone to annex the ABU crown next February.
On the bill would be three Featherweight contests, all over eight rounds. The first would be between Malik "Bukom Snake" Jabir, who has been off the ring for close to year against Nigeria's Peter 'Lotto Gold' Durbur.
Malik, in his usual confident self at the press conference, threw a challenge to the camp of Yakubu Aminu assuring Ghanaians that the Nigerian would not be an impediment to realising his dream. Aminu who is also on the bill, faces Sani Mohammed in a super featherweight challenge contest.
In the last of the super featherweight division, George Ashie takes on Thomas Okanja Aryeetey in an eight-round eliminator. In the Super Welterweight contest also over eight rounds, Joseph Kwajo come up against Joseph Lamptey while Lartei Lartey takes on Roberto Duran in a Super Lightweight eliminator.