Bukom Fist of Fury (Week 7) Moves To Sukura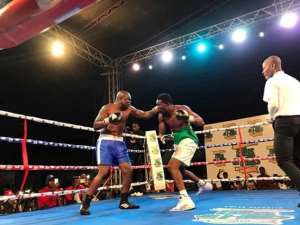 The 7th-week edition of the exciting Bukom Fist of Fury Boxing League moves to Sukura, near Lartebiokorshie on Friday, January 18, 2019.
According to George Lamptey, president of the Ghana Boxing Federation (GBF), the event comes off at the Lord's Wembly, near the new sports complex sponsored by Lord Commey, former national organizer of the NPP.
He said 12 amateur bouts will take place but would be spiced with juvenile fights to whet the appetite of boxing fans.
For the week 7 pairings, Fit Square will face Bronx ABC, The Gym versus Will Power ML, Black Panthers B versus Discipline Boxing Club.
Coach Ofori Asare, Technical Director of the GBF said the boxers have prepared very well for this particular event and they are going to exhibit good boxing.
He urged the officials to work hard to make the Bukom Fist of Fury a success as plans are advanced to reward boxers and officials at the end of the season.
Meanwhile, the GBF is arranging for buses to take fans to the venue and bring them back. Buses can be boarded at James Town, Akoto Lante and Chorkor.