Kotoko Returns Home Today With Glory After Clashing Coton Sports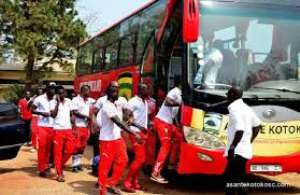 The Club of the Century, Krobea Kumasi Asante Kotoko returns home today after a dramatic 2 – 3 away victory at Garoua, Cameroon. Kumasi Asante Kotoko won away from home as they clashed the African giants Coton Sports de Garoua of Cameroon in a leading 2 – 3 victory in the Caf Confederations cup play-off at the Roumde Adjia Stadium in Garoua, Cameroon.
The Porcupine Warriors has been the only team representing Ghana in the ongoing Caf Confederations Cup made Ghana proud as they showcased master-class football which caught the eyes of Coton Sports supporters to praise them.
Kotoko's Emmanuel Gyamfi who was the architect of the porcupine warriors victory gave them the early lead in the 10 minutes of the game as he took a decent cross from the left wing. Maxwell Baakoh in the 30 minutes of the game also made a brilliance strike where he dribbled three Coton Sports defenders making it a two (2) goal lead.
Just to end the first half of the game, Coton Sport was awarded a penalty as the skipper of their side made it 1 – 2. Five (5) minute after the second half of the game, the porcupine warriors showed great resilience and masterclass to back up their early positive approach but it was Abdul Salifu Fatawu's goal which made it 1 – 3 as he was gifted the ball by the number 23 shirt of Coton Sport de Garoua which made their qualification to the next level of the competition clear.
Yakuba could have made it 1 – 4 as he missed a glorious opportunity in the die minutes of the game. Gueme Araina made it 2 – 3 for the home team on the 71 minute of the game. Kotoko showed mental toughness as the game ended in 2 – 3 victory for the Kumasi base team.
Kumasi Asante Kotoko returns to Ghana today curtseying Unity air as they prepare to host their visitors at home in the second leg on Sunday January 20, 2019 at 5:00 pm at the Baba Yara Sports Stadium.