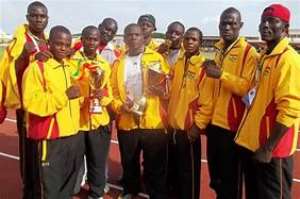 As the nation prepares to participate in some important international sports competitions like the 2020 Olympic Games and plan to host the 2023 All African Games, members of the boxing federation are also getting set to make the nation proud by grabbing the medals.
George Lamptey, president of the Ghana Boxing Federation GBF believes the nation has done very well in boxing and still doing well.
He appealed to the government and companies to support the boxers who are currently undergoing non residential camping as they always has to take their own transport to and back from training at Accra Sports Stadium.
He noted that many countries are now taking sports serious and Ghana is always a target because of the past laurels, so present boxers in the Black Bombers team have to give off their best of all.
He boasted that Ghana has a very good team who just need preparations in terms of friendly matches to ge exposed in the West African region, the continent and the world at large.
He welcomed training tours in developed countries like Russia, USA, Cuba, Germany, Australia, Canada, United Kingdom,
He named the top seven rated boxers as, Suleimana Tetteh (52kg), Umar Abdul Wahab (60kg), Lartey Jessie Lartey (64kg), Musa Lawson Rahman (75kg), Mahammed Azumah (69kg), Ampiah Akimos Annang (49kg) and Yaw Addo (56kg).
He said these are the current most experienced amateur boxers, but there are many young talented and skildul boxers in the camp and any of them can spring up to join the top rated.
Meanwhile, the Bukom Fist of Fury Boxing League continues at the Lord's Wembly on Friday January 18, 2019.
According to the parings for week 7, Fit Square vs Bronx ABC, The Gym vs Will Power, Black Panthers B vs Discipline.