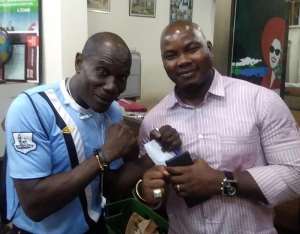 Ivan Bruce Cudjoe, CEO of Cabic Promotions who currently have two crack World Boxing Organisation (WBO) Africa Champions in Super Welterweight Patrick Allotey and Heavyweight Richard Nii Lartey Harrison says they are aiming at winning world titles for Ghana in the shortest possible time.
Speaking at a soiree for a section of the sports media, especially those who report on boxing, he said the future looks bright after Allotey and Harrison both defended their titles against durable opponents from Congo and Kenya respectively.
He said the Cabic boxers are given the best of opponents to bring the best out of them and also give boxing fans their money's worth of fights and programmes.
According to Ivan Bruce Cudjoe, 2019 looks to be a good year for Ghana Boxing, and they hope to clinch any of the world titles from the world bodies. He was however optimistic that they can win the WBO titles, and appealed to corporate Ghana for sponsorship to hit the top of the world.
The experienced travel and tours agent said sports is a tourism product and Ghana Boxing can be packaged well to attract tourists and sponsors. He expressed that the Bukom Boxing Arena is ideal and should be maintained very well to be able to organize big international fights. He was also happy that the Accra Sports Stadium is back in shape.
Ellis Quaye, a Director of Cabic told the media, they will continue to expose hidden entertainers as boxing goes with showbiz and there are some underground musicians who would be unearthed soon under the Cabic brand.
Gideon Jingles, the events coordinator of Cabic Promotions commended the media for their support and contribution in making their promotions grand.
Mohammed Amin Lamptey, PRO of Cabic Promotions hinted that this year is going to be special and full of surprises for boxers, media and boxing fans as they are coming up with mouth-watering packages that are lifetime experiences.
"Ghana is a boxing nation, but we have only 9 former world champions, we need more world champions and we at Cabic will play our part to get the real champions from Ghana" he expressed.