Dujkovic's Unfinished Business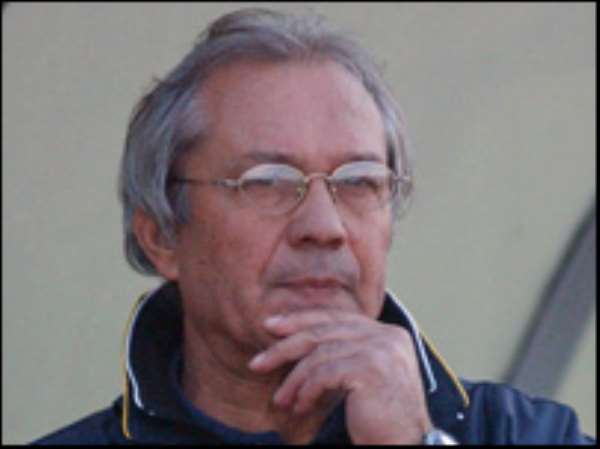 Qualifying for the 2006 World Cup has not only pleased the 20 something million Ghanaians but has given fans of the Black Stars the armoury to silence their Nigerian 'enemies'.
Prior to securing their first World Cup ticket, debates on which country is a better footballing nation has been one-sided with the Nigerians carrying the day with the debate- winning question: "Have you ever qualified for the World Cup? Debate over- Nigerian wins, Ghanaian goes home.
Surprisingly, since Ghana qualified for the World Cup, fans of the Super Eagles snipe on. They say : "Lets go to the Nations Cup first to be sure that you will not disgrace Africa at the World Cup." They say so because apart from Sammy Kuffuor, Stephen Appiah and Michael Essien they hardly know the depth of talent in the current Black Stars squad.
Like the Nigerians, despite our first World Cup qualification, Ghanaians expect nothing but a title-winning challenge at the Nations Cup in Egypt sequel to a good showing at the World Cup in Germany. So the country expects coach Ratomir Dujkovic to field Ghana's best squad to carry-out the task ahead.
Anyone who has watched the Black Stars play as least in their last five outings knows that the team should be augmented for the two important tournaments, where the stakes are higher than the qualifiers. Yet there are many who feel that those who played in the qualifiers should be maintained. For them there should be no "monkey dey work baboon dey chop" business.
The extreme doubters hold that the mettle of the current squad is yet to be truly tested for us to assume that this squad is beyond doubt, cut for the World Cup. Their argument- Ghana had an easy qualifying task as Group favourites South Africa are on the wane with egocentric players who failed to show-up when invited for national assignment. They add that Ghana failed to beat DR Congo and didn't convincingly beat the other Group member Burkina Faso.
I disagree with both schools of thought. The Black Stars have given a good account of themselves outside the qualifiers against formidable opposition. . They whipped regular World Cup participants Saudi Arabia 3-1 away from home and impressively held Senegal in London. But no football team closes its doors to good players who are capable of commanding a first-team place. But to put the doubts to rest, we need to beat England, Italy, Holland or give a good account of against Brazil!
As the drip-drip of doubts spill from the margins to the mainstream, it is inevitable that painfully some players who were part of the qualifiers will not make it to the Nations Cup or the World Cup.
Having watched the Blacks Stars in their last five matches, it is clear that the lateral defence is needs immediate attention. Even though that position has changed hands a couple of times, it has woefully failed to live up to its modern expectation of joining the attack and recovering very quickly. It's a bolt from the blue that we have proven and tested players for this position yet we ail. Dujkovic has failed to convincingly answer why he has not called up Hans Adu Sarpei of the German first division side Wolfsburg. Sarpei is the most consistent Ghanaian left lateral defender in the top leagues of Europe for three years now but we lack in his position. On the right side, there is George Blay of the Belgian side La Louviere whose ability to join the attack with flair and recover well has never been in doubt.
Ghana has arguably the best midfield in Africa with the presence of Appiah, Essien, Sulley Muntari and Laryea Kingston. But they say the strength of a team lies in the players of its substitutes' bench. Hamza Mohammed has been consistent but the real concern here is why we have ignored back-to-form Derek Boateng who has been instrumental in the return of AIK Solna to the top league of Sweden. Four years ago even with Essien in the team, he was loyally leading the Ghanaian revolution at the Under-20 World Cup in Argentina. After surviving serious personal problems that resulted in the plummet of his form he should be given the opportunity to show if he is capable of taking a first team place. Then there is Otto Addo whose three-year injury problem started when playing for Ghana. Now that he has successfully resurrected his career with Mainz 05 in the Bundesliga, he should be given the chance to fight for a place. A revelation of the just-ended Swedish league, former under-17 midfield commander Ibrahim Attiku could also be given a trial. As the league in Sweden is over, him like Boateng, can even spend more time with the team as compared to those in main Western Europe to be properly assessed. The same can be said of the players in Russia. There are many players in Denmark and Sweden who should also be seen.
I wonder why Isaac Boakye has also been declared an also-ran in a Dujkovic squad that is yet to find a convincing partner for Matthew Amoah or Asamoah Gyan. If he has impressed in the past by securing our Nations Cup tournament in 2002, then single-handedly kicking Burkina Faso out of the tournament and now playing well in the German Bundesliga I think he should be given more time. A sixty-minute performance with Senegal is definitely not enough to judge him. But Boakye should put the national team first if he is given the opportunity as his attitude towards national team invitation is unacceptable. A revelation in the Belgium's top league, striker Ibrahim Salou has scored 5 goals with Zulte-Waregem. He grew up in Ghana and went to school in Kumasi and holds a Belgium passport but can still play for Ghana.
The central defence looks very good with John Mensah, Kuffuor, Issa Ahmed and Daniel Coleman. But it doesn't mean that if a player like Denmark-born Francis Dickoh has what it takes to command a first team place he should be ignored.
In the same light, proven local striker like Prince Tagoe and Charles Taylor notwithstanding the problems he had at Tunisia's Etoile could be observed for possible invitation.
If Dujkovic adopts an open policy for the Black Stars it would be an insurance against loss of form, injuries and bringing out the best in players as they will know that any slip-up would cost them their positions. Players will also appreciate the national team more, turn-up promptly for matches and also ensure that when disciplinary action is taken against any player there are many more who will comfortably fill their positions.
I am not saying that these players should be given a call-up. The coach should go to Europe and watch their matches before the Christmas break to see if there are fit to be invited for some friendlies before the camp in Portugal ahead of the Nations Cup. The case of Germany striker Gerald Asamoah who was ignored by Guiseppe Dossena is well documented.
But like as those who played in the qualifiers they are not expected to have an automatic places in the team just because they have played well in Europe or played well with the Black Stars previously. They should win their position by proving with their ability when invited. Ibrahim Sannie is a Ghanaian sports journalist with the BBC World Service.