Black Stars shining bright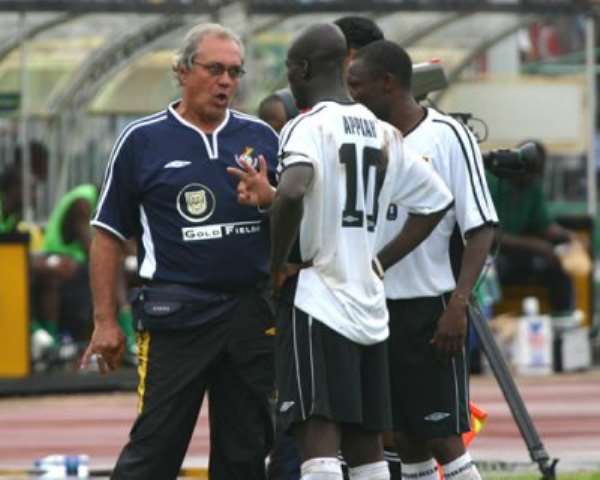 Ghana's Black Stars have never shone as brightly as they do at present despite boasting a long and distinguished football history and enjoying a status among the heavyweights of the African continent.
Their efforts in qualifying for the FIFA World Cup™ finals for the first time have lifted the west African country 11 places to 51st in the latest FIFA/Coca-Cola World Ranking and they could now push on into the top 50 as they seek to maintain their momentum with a solid performance at the CAF African Cup of Nations finals in Egypt.
Ghana, one of 16 who will contest the Nations Cup from 20 January next year, have built their reputation in past editions of the continental championship, at one time being the only country to have taken the title a record four times. That achievement has since been equalled by Egypt but the Black Stars' name still resounds around Africa.
And now, after decades of underachievement in the FIFA World Cup qualifiers, Ghana have something else to boast about - a place at the 2006 tournament in Germany. They produced a remarkable surge to finish top of African qualifying Group two, ahead of the Democratic Republic of Congo and the 2010 FIFA World Cup hosts South Africa.
It was in mid-June that their fortunes turned around with a surprising but well-merited 2-0 away win over South Africa in Johannesburg, which propelled them into pole position in the group. Ghana followed that up with wins over Uganda in September and then a 4-0 away thumping of the Cape Verde Islands in their last qualifier in Praia on 8 October to make sure of their place at next summer's showpiece.
Ghana are unbeaten in 2005, having won four out of five FIFA World Cup qualifiers and drawn friendly matches against Kenya and Senegal. Indeed, their last defeat came in June 2004 when they lost their opening group qualifier in Ouagadougou to Burkina Faso. Since then, however, the Black Stars have now gone a total of 12 matches unbeaten.
Accordingly, they have climbed steadily from 89th place in the FIFA/Coca-Cola World Ranking 18 months ago to a position just outside the top 50. That 89th place is the lowest Ghana have ever been but there is still much to do before they can replicate their highest ranking to date of 15th in the world, which came after they reached the semi-finals of the 1996 African Nations Cup in South Africa.
It is a new generation of players who have propelled the Black Stars to their new-found status, together with the arrival of inspirational coach Ratomir Dujkovic, who took over before Christmas last year after Mariano Baretto had returned to his native Portugal. Dujkovic had already proven his golden touch with tiny Rwanda and has worked his magic again in Ghana.
Stars like Michael Essien, Stephen Appiah and Sulley Ali Muntari have been the backbone of the side but many others with a lower profile have also delivered on their potential. The Dutch-based striker Matthew Amoah, for instance, may be fighting for a first-team place at his club Vitesse Arnhem, but he came good in the qualifiers with some vital goals. In defence, meanwhile, unheralded players like John Mensah and Daniel Edusei also played a big role.
There has never been a shortage of talent in Ghana's ranks as their profile at youth level suggests. And now with former world junior champions like Sammy Kuffour and Derek Boateng returning to the squad, there is every chance the Ghanaians can match the heady heights they enjoyed in the FIFA/Coca-Cola World Ranking in 1996 - but this time with the world's eyes upon them.