Black Stars To Miss Key Players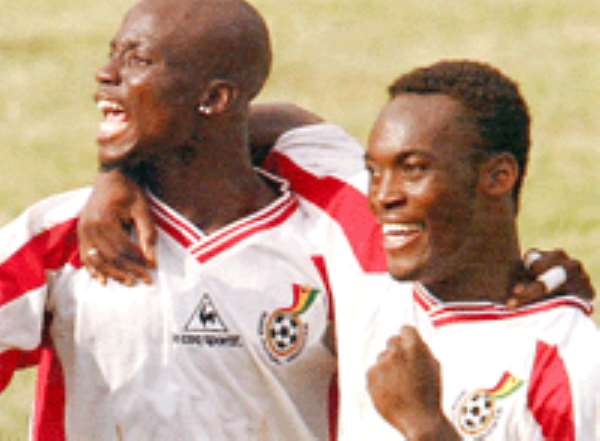 As the Black Stars go into action this afternoon against Saudi Arabia in an international friendly, it has now been established that the Stars are likely to miss the services of two of their key players who contributed in no small ways in ensuring that the Black Stars qualify for the 2006 World Cup in Germany.
The two players who are Stephen Appiah, the skipper for the side and Michael Essien have reportedly been affected by ill-health and as a result, could not join the team in camp for the friendly encounter. The Ghanaian skipper who recently moved to Fernabahce from Juventus in a four-year contract worth about 5.5 million pounds, had already made travel arrangements to join his colleagues in camp two clear days before the match, but in formation later reached the technical team that he could not turn up for the match after all.
With Michael Essien, it was disclosed to the technical team on arrival in Saudi Arabia that because of an injury he was nursing he could not come for the match. Meanwhile, the headcoach of the team, Ratomir Dujkovic has made it emphatically clear that, even though the absence of his two 'boys' will tremendously affect his style and pattern of play, he is sure of another victory for the Stars even on an away soil.
The coach who has been impressed by the work-rate of the players in camp after three training sessions, has disclosed that he is keeping his card to his chest but is expected to raise a very formidable side who can equally stand to the test ahead of the friendly this afternoon.
It will be recalled that the two players, Stephen Appiah who has been pivotal in the Stars' impressive run in the World Cup qualifiers in which he scored four goals in seven games, together with Chelsea midfielder Michael Essien (two goals in seven games), were selected amongst a host of eleven outstanding figures that have been selected to craft the 2004/2005 CAF Castle Lager sponsored 'African Dream Team'. The Castle Lager Africa's Finest XI: Keeper:Vincent Enyeama (Enyimba);
Defenders: Lauren Etame Meyer (Arsenal), Kolo Toure (Arsenal), Radhi Jaidi (Bolton), Nouridine Naybet (Tottenham);
Midfielders: Austin `Jay Jay' Okocha (Bolton), Pape Bouba Diop (Fulham), Michael Essien (Lyon), Stephen Appiah (Fernebache);
Strikers: Benni MCarthy (Porto), Samuel Eto'o Fils (Barcelona).