CAF Supports Books And Boots Grassroots & Educators Workshop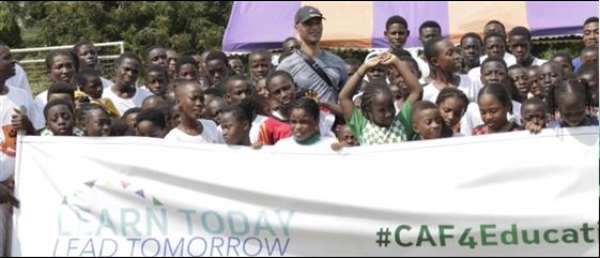 On the sidelines of the Total Women's Africa Cup of Nations 2018, CAF as part of social responsibility supported a one-day Grassroots educational program on Thursday, 15 November 2018, organized by Books and Boots, an-Accra based NGO.
The event was divided into two. The first part was a workshop for 40 educators organized in two sessions, explaining standards for CAF grassroots and the difference between age groups.
It was led by CAF Director for Technical and Development, Raul Chipenda, also a former footballer, and Assistant Technical Director of the South African Football Association (SAFA), Fran Hilton-Smith, with Navigator of Books and Boots, Yaw Ampofo Ankrah, represented his outfit.
Also in attendance to share his experiences with the participants was former Ghana midfielder, Awudu Issaka, a member of the Ghana U-17 squad that won gold at the FIFA World Cup in 1995 in Ecuador.
The second part took place at the Ajax Park in Legon where all 40 educators moved on ground together with the 150 participating children for a practical experience of what was explained in the workshop.
The participants engaged in learning off the pitch through reading and reciting and going through footballing principles on the pitch such as fair play, discipline, team-play and goal-setting.
CAF recently launched its very first educational campaign 'Learn today, Lead Tomorrow' to raise awareness and support educational institutions in Africa through football. It is in line with the vision that CAF supported Books and Boots, a non-profit social integration/intervention project which combines education and recreation in communities.
'If you want kids to go to school, put football into schools,' said Chipenda, whilst emphasizing the importance of education and sports.
The concept of Books and Boots is for two things: reading and afterwards playing football. It is for the children to understand that in order to play football and have fun, they have to read and study first.
One of the side attractions was a mobile library which distributed books to the participating kids on the pitch, as other kids danced to the beats of Ghanaian music.