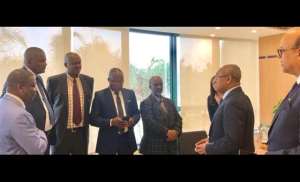 Newly elected presidents of the football federations of Benin, Congo, Eritrea, Ethiopia and Rwanda have visited the Confederation of African Football, where they met President Ahmad.
Mathurin De Chacus (Benin), Jean Guy Blaise Mayolas (Congo), Esayas Abraham Weldeyesus (Eritrea), Isayas Jira Bosho (Ethiopia) and Jean Damascene Sekamana (Rwanda) visited the CAF headquarters in Cairo, Egypt.
The quintet were received by President Ahmad Ahmad and Acting General Secretary Essadek Alaoui.
The meeting was an opportunity for the new leaders of the Member Associations to discuss the development of African football with the CAF President and also acquaint themselves with the operations of the CAF headquarters.
De Chacus was elected president of the Benin Football Federation in August 25, 2018. Mayolas, succeeded Jean-Michel Mbono at the end of the extraordinary general assembly of Wednesday, October 3, 2018, assuming the top post of the Congo Football Federation.
Weldeyesus took over the reins of the Eritrea Football Association earlier in the year whilst Bosho was elected Ethiopia Football Federation in June.
On the part of Sekamana, he replaced Vincent Nzamwita at the helm of the Rwanda Football Federation last March.