FC Carl Zeiss Fined 2000 Euros Over Racist Chants Against Ghanaian Youngster Braydon Manu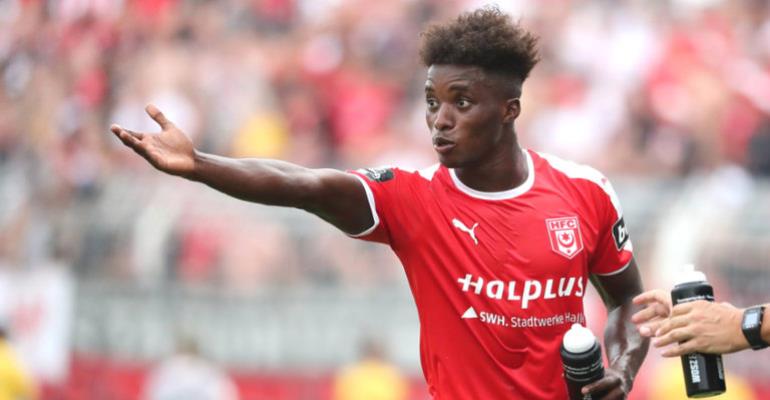 German Bundesliga III side FC Carl Zeiss have been fined an amount of 2000 Euros following racial abuse to Ghanaian youngster Braydon Manu.
Manu, who plays for Hallescher FC was racial abused after fans of FC Carl Zeiss chanted offensive words towards the Ghanaian in the game between the two sides in August.
Hallescher FC defeated Carl Zeiss 3-0 in a game Braydon Manu scored.
After netting his sides third, fans of FC Carl Zeiss used words such as 'You black pig, screw your ass' on the German-born Ghanaian.
Carl Zeiss have apologised for the actions of their fans stating," Furthermore, it was a call for a single person, which would probably not have been prevented even with a higher number of folders."
Meanwhile, Manu has reacted calmly over the incident insisting, "The reaction of such fans is a sign that I made a very good game," said the 21-year-old at the time in the "Bild" newspaper. "In the end, I did not really care what they did, we got the three points and I was able to sleep very well."
Jena can appeal within 24 hours and thus request an oral hearing before the DFB sports court. If it remains in the verdict, the total penalty of FC Carl Zeiss Jena increased this season to 26,900 euros, which means the second place in the penalty table.
For more Ghana football news visit www.ghanasoccernet.com