Adwoa Bayor Urges Black Queens To Focus And Pray Ahead Of AWCON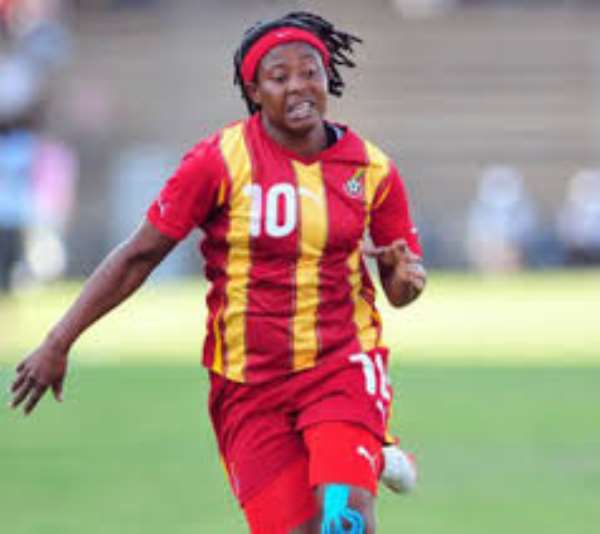 Former Black Queens Captain Adwoa Bayor
Former Black Queens and now living legend of the Women National team, Adwoa Bayor has urged players of the Black Queens team preparing for the Total Africa Women's Cup of Nations (AWCON) to focus and pray ahead of the tournament.
Ghana is set to host this year's edition of the eight Nation Tournament from November 17 to December 1. The Queens as part of preparations have lined up three friendly games with Zambia, Kenya and South Africa. The team is expected to depart the country today for those three matches.
Modernghana Sports in an exclusive interview today with Adwoa Bayor at the official launch of the Retired Women National Footballers Association of Ghana (RWONFAG), the formal captain cautioned the team to stay focus and prioritize praying. She is also confident there will not be any pressure on the team to perform.
"I don't think there will be pressure because is their career. They want to play football so any pressure that will come to their place they will put it aside and they will play.
"For me, I will want to tell them that they should pray and the focus on whatever they want to do", Adwoa Bayor said.
She further indicated that the international friendlies the Queens are going to play before the start of the tournament is going to get them prepared and ready to excel.
"I think it will help them because they went to Regional tour in Ghana and they are now going outside for the preparations. So I think it will help them. When they come back we will see that the team will stand well for the host and win.
The Black Queen will kick-start the AWCON in a match against Algeria on November 17 at the Accra Sports Stadium.
Eric Nana Yaw Kwafo
Journalist