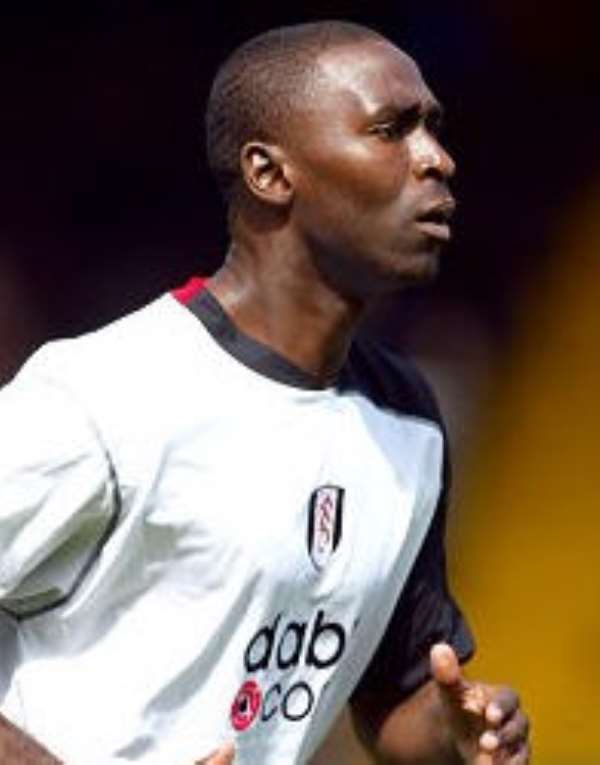 ACTING Ghana Football Association (GFA) Chairman Kwesi Nyantekyi must be wondering what hit him in the last few weeks.
Still high on Ghana's qualification for the 2006 World Cup, the signing of a lucrative sponsorship deal with Puma and the prospect of a bright future for Ghana football, he has discovered in the last two weeks that Word Cup qualification comes with truckloads of unaccompanied baggage too.
First there was that story about the approach to Danny Jordan, the ace South African football administrator to manage Ghana's World Cup campaign.
The story run by the state owned Graphic Sports quoting Nyantekyi was vehemently denied by the GFA insisting no such discussions have taken place. The idea of appointing the South African Football Association chief executive to manage the campaign sounded ridiculous as was the recent media reports that Andy Cole was set to become Ghana coach.
Cole of course is a football legend. They might not love him that much in England but his phenomenal goal scoring record for Manchester United and what he continues to do at Manchester City makes him one of football's true greats. Yet, whoever muted the idea that Cole was set to hold talks with Ghana about a coaching role might have been a trickster or one of those latter day football converts desperate to cash in on Ghana's World Cup success.
The story, denied since by the GFA and their self appointed representative in the United Kingdom Dennis Tawiah was complete rubbish and typical of the stereotype that we are all forced to fit in by the Western media.
The Sun wrote: "ANDY COLE has been sensationally approached to be a Ghana coach at the World Cup. And if the Manchester City hitman is a success they have promised to make him a village chief!"
The story quotes Dennis Tawiah, who calls himself a representative of the GFA as saying: "He is well known in Ghana where they see more premiership football than most people in England do. Getting to the world cup is a huge achievement for Ghana and with someone like Andrew helping us, we have a good chance of doing well.
"One of the villages in Ghana called Obusa has promised to make him their chief if Ghana makes it past the group stages in Germany".
Complete rubbish! So we are so desperate as a nation for success that we will hire someone still playing football to do well at the World Cup. Sure Cole is great, a lethal finisher but don't we deserve more than this? If Ghana wanted to fall on greats, then it would have been easy. Three time African player of the year Abedi Ayew Pele is around, Tony Yeboah is now is a hotelier after scoring some of the most incredible goals in the history of the Ghana Football Association. And we can even count Marcel Desaily as one of our own.
It was the Ghanaian-Frenchman who was tipped for the Stars job before Dujkovic got the nod and now as Nyantekyi says the body has absolutely no intention of changing the winning coach.
"We have full confidence in Dujkovic and he's currently preparing the team for the African Cup of Nations and the World Cup."
"We're surprised by these newspaper reports in England because we've not approached Andy Cole or anyone else for that matter."
It would be crazy to change Dujkovic but even worse to replace him with someone still banging in the goals for Manchester City.
These are destabilising situations the FA has to deal with on a daily basis. World Cup success is contagious which is why guys like Dennis Tawiah have all of a sudden become GFA representatives shouting for everyone to hear about how they have the expertise to help Ghana football, how they are going to sort out camping arrangements for the Black Stars and how they organised the Ghana-Senegal friendly when he had no idea how the match was mooted in the first place.
Tawiah though has backtracked quickly insisting in a statement that he did not speak about any coaching role for Cole and ex-England international David Seaman. He claims he was just arranging for attachment for Ghana's goalkeeper's trainer Edward Ansah.
But Nyantekyi was categorical on Tawiah. "Tawiah is not a Ghana FA official and we have not mandated him to do anything on our behalf."
That should lay the issue to rest for now but sadly for Nyantekyi and members at the GFA there will be more Tawiah's, experts and agents all shooting from the hip and desperate to cash in on the World Cup success.
So pervasive was the rumour about Ghana approaching Cole that Samuel Osei Kuffour's recall into the Black Stars after a seven month exile went almost unnoticed. So the saga that started after Kuffour was left out of the squad to play Congo DR has ended.
Personally, that is a massive relief. Branded a Kuffour agent after my groundbreaking interview on TV when he said sorry to Dujkovic, I have had to bear the brunt of both the coach and sections of the public.
Common sense finally prevailed and the man whose football career is unparallel among active Ghanaian players will get the chance to fight for a place in Doya's World Cup squad beginning with that friendly against Saudi Arabia. Knowing Kufuor and his ambitions, trust that he will grab the opportunity with both hands after getting his wish to play for the Black Stars again.
But it wouldn't be an easy ride. Nyantekyi has warned that even though Kuffour's recall is a sign that Dujkovic is willing to give everyone a chance, he has also stressed the obvious: that the defender must fight for his place in the team on merit.
It will be testing time for the AC Roma player. He struggles to stay quite when he thinks things are going wrong. He is unlikely to keep quiet when things don't go well which could be his undoing.
Yet, it will help if he stitches up for once without losing his principles. He could still speak out when he wants to without roughing up his image otherwise the desire to play World Cup football will vanish.
And that will be a shame for Ghana and the player too. His wealth of experience no matter what his died-in-the wool critics say will be vital for Ghana in 2006. It is difficult to imagine any top striker in the world that the former Bayern man has not played against.
He has four African Cup of Nations appearance under his belt. And as he has often proved will always get stuck in for Ghana.
Now that Dujkovic has proved he will countenance nothing, he has at least won the respect and fear of the squad. If Kuffour has leant his lesson it is Ghana that will benefit most from the recall of one of Africa's best defenders.