AWCON 2018: Adjoa Bayor And Memunatu Sulemana To Assist In Sunday's Draw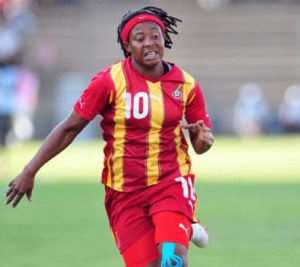 Two of Ghana's women's football legends, Adjoa Bayor and Memunatu Sulemana have been named assistants for the final draw of the Total Women's Africa Cup of Nations Ghana 2018.
The duo, highly respected and revered for their achievements on and off the pitch, will assist CAF Deputy General Secretary Anthony Baffoe to conduct the draw at the ceremony scheduled for Sunday, 21 October 2018 at the Movenpick Ambassador Hotel, Accra at 19H00 GMT.
The two ex-players, with more than a century caps between them, are among the pioneering members of Ghana's women's national team, Black Queens, in the late 90's. As Bayor dazzled and awed many with her sublime skills in attack, Sulemana was always denying the opposing team from scoring.
They both featured in the maiden edition of the Women's Africa Cup of Nations in Nigeria in 1998, going to make five more finals. Adjoa and Memunatu also participated in three FIFA Women's World Cups (1999, 2003 and 2007).
Ahead of the draw, host Ghana and holders have been named the top seeds for Group A and B respectively. The other qualified teams are Algeria, Cameroon, Kenya, Mali, South Africa and Zambia.
Profile of the legends
ADJOA BAYOR
Name: Adjoa Bayor
Date of birth: 17 May 1979
Clubs: Ghatel Ladies, FC Indiana (USA), FF USV Jena (Germany)
Fondly called Adjoa, she is an iconic figure as far as women's football in Ghana is concerned. A pioneer in the women's game, the shy-looking and soft-spoken Adjoa did her talking on the pitch dazzling all with her sublime skills. As a 19-year old, she was a member of the Ghana squad that participated in the maiden edition of the Women's Africa Cup of Nations (then African Women's Championship) in 1998, losing to host Nigeria in the final. She will go on to make appearances in subsequent editions 2000, 2002, 2004, 2006, and 2008.
Adjoa also has three FIFA Women's World Cup participation to her name, 1999, 2003 and 2007 during a career that saw her play amongst some of the best women's footballers in USA and Germany. With more than 70 caps, the highlight of her career was being crowned CAF Women's Player of the Year in 2003. After retiring, she served as a member of the FIFA Organising Committee for the FIFA U-17 Women's World Cup.
MEMUNATU SULEMANA
Name: Memunatu Selumana
Date of birth: 4 November 1977
Clubs: Post Ladies, Ghatel Ladies, Fabulous Ladies
In her prime, she was ranked amongst the best not only in her native Ghana but on the continent at large. She is unarguably the best ever goalkeeper in the history of women's football in Ghana. She was so good that many dreamt of her keeping the post for the men's game.
The success story of women's football in Ghana can never be complete without the mention of Memuna, as she is affectionately called. For more than a decade, she was the number one choice goalkeeper, and featured in no less than seven finals of the Women's Africa Cup of Nations (1998, 2000, 2002, 2004, 2006, 2008, 2010).
A fans favourite, she was also between the post for Ghana's three FIFA Women's World Cup appearances (1999, 2003 and 2007), where she awed followers with her heroic saves. After hanging her gloves, she was appointed goalkeepers trainer for the Ghana U-17 Women's team (Black Maidens) in July 2017.