Bazooka's Team Denied Visa Again?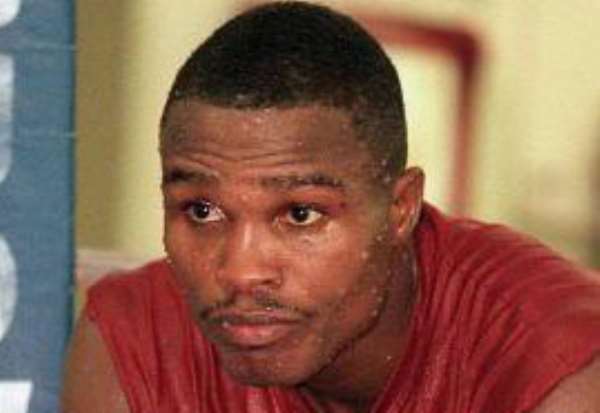 Ike 'Bazooka' Quartey has been shocked by yet another visa refusal of his team by the American Embassy in Accra ahead of his December 3 fight against Mexican Carlos Bojorquez.
It is the second time in four months that the ex-WBA welterweight champion's team has been denied visas to travel to the USA.
Narrating the incident to the Graphic Sports moments after the refusal last Monday, the highly demoralised Quartey said he did not understand why the Embassy was treating him like that.
"This is the second time and I just can't understand what is going on, "he said. Quartey's team is made up of sparring partner James 'Bukom Fire' Armah and two ring side attendants.
African light heavyweight champion, Braimah Kamoko (Bukom Banku), who was then Ike's sparring partner, together with two ring side attendants, were refused visas ahead of the June 18 fight against Verno Philips.
James Armah, who was then in the US, however, had to offer a helping hand to Quartey, who had then hired an American sparring partner for the fight.
About three weeks after the victory against Verno Philips, Quartey held a news conference in Accra, together with Education and Sports Minister, Yaw Osafo Marfo, and his Deputy, O.B Amoah.
At the conference he petitioned the Minister about the American Embassy's handling of his visa request and the minister gave the assurance to follow up on the issue.
According to Quartey, he was given a letter by Dr Owusu Ansah, Director of Sports Development at the Education and Sports Ministry, to help him secure the visas for his team but these were all ignored by the Embassy.
The 35-year old former world champion is scheduled to leave Accra between today and Monday for the USA, where he will train and finish all pre-match arrangements with his promoters, Lou DiBella Entertainment.
"I'm really frustrated because once again I have to employ the services of other people while in the US and this will not only weigh on my finances, but will also create a lot of inconvenience," he told the Graphic Sports.
According to Quartey, this decision by the Embassy will take a toll on his final preparations in the USA.