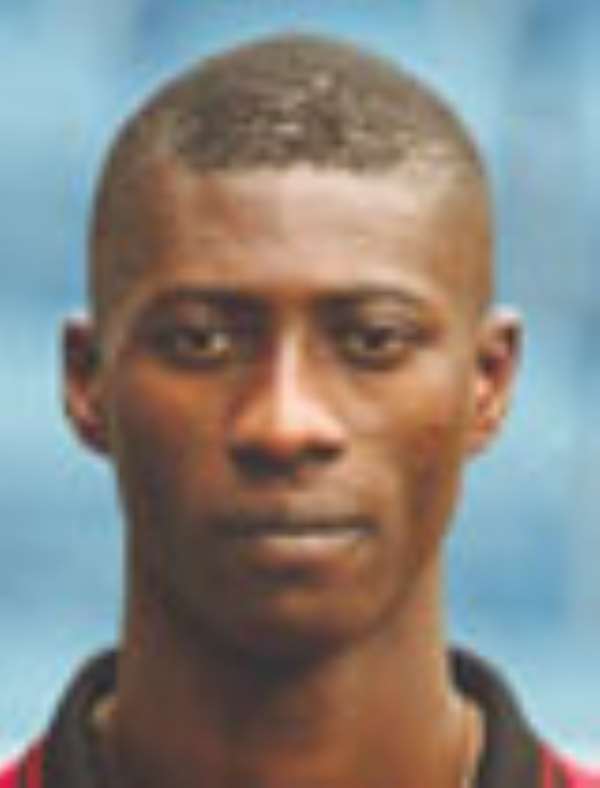 Flamboyant Ghanaian-born Togolese midfielder, Eric Akoto has described as no fluke, the qualification to the Germany 2006 FIFA World Cup, by the Hawks saying'' we deserved it and won't be a weeping side in the upcoming football showpieces tournamentin Egypt and Germany''.
The Austria Wien 2.5m Euro signing, told me that despite being in a group that comprised of a last eight qualifier in the 2002 World Cup, Senegal, a semi finalist at the African Nations Cup in Tunisia 2004, Mali and a good side that came closer to qualifying for the 2002 event, Liberia, Togo had a real challenge but hard work counted for them.
The 26-yaer old said Nigeria's Steven Keshi stood high in forging unity and discipline in the team and on top of that, the Togolese authorities went serious with incentives for the team and that was why they appeared unconquerable throughout the qualifiers.
Akoto said they are curiously aware of the enormity of the task that awaits them at the World Cup and revealed that the Togo Football Association is advanced in coming out with vigorous training regimes to prepare them first for the Nations Cup in Egypt.
''We are a good side in every respect; tactical and discipline wise and takes little pride in blowing our own trumpet. Togo football is at its peak and the continent should be weary of our huge potential''.
In an answer to a question on whether Togo can perform in Egypt, the defender said there are numerous factors to consider but I sure we will be one of the best there''.
The former All Blacks and Liberty Professional player was happy that his native Ghana is as well a qualifier saying,''the Black Stars are an extremely good side and I predict they will be one of the teams to show class at Egypt 2006 and Germany 2006''. ''The team is simply superb, very solid and backed by a hard working government and restless Football Association'' Eric Akoto added.
Keep Starlets intact: Sanzio Bahner
Ahmed Shiraj
In an usual foray into national team matters, Hearts of Oak coach, German Sanzio Bahner, has said the Black Starlets squad that went to Peru 2005, the World Under-17 Championship is a solid team a with huge talent pool that should not be dismantled.
Making his case to me in an exclusive interview, the outspoken coach said the Starlets got dropped from the tournament too early but by far they were the most tactically proven team in the entire tournament and ''I think the FA should keep them intact''.
Bahner argues that coach David Duncan is of a good technical coaching pedigree but he needs to be exposed to many coaching courses abroad and should be allowed to move with the team to the Under-20 level so that some form of consistency, composure and familiarity can be maintained.
The one-time King Faisal technical handler proposed that the Ghana Football Association take up the challenge of establishing soccer academies in every region of the country so that a vibrant youth football core can be formed in the country.
''It would not only be a plus in grooming youngsters for all national teams but would also improve the standard of the country premier league'', he added.
Bahner:''The earnings from the World Cup qualification should have some reserved for this purpose and I promise you the ongoing forward match of Ghana football dare not be backtracked.
Responding to his relations with supporters and management of Hearts of Oak which got stalled shortly after he took over in July after a string of poor results, Bahner expressed satisfaction and said understanding has been reached and he is content with the situation in the club.
He was quick in revealing that he has submitted to the management of Hearts, a proposal for an off-season massive player recruitment exercise but not same in revealing his targets.
Intelligence I have gathered from usually reliable sources inside the club predicts that King Faisal's Shila Illiasu and Abubakare Yahuza, RTU's Hamza Mohammed and Taufiq Alolo and Hearts of Lions' Sadat Bukare are some of the likely bid targets of the club.