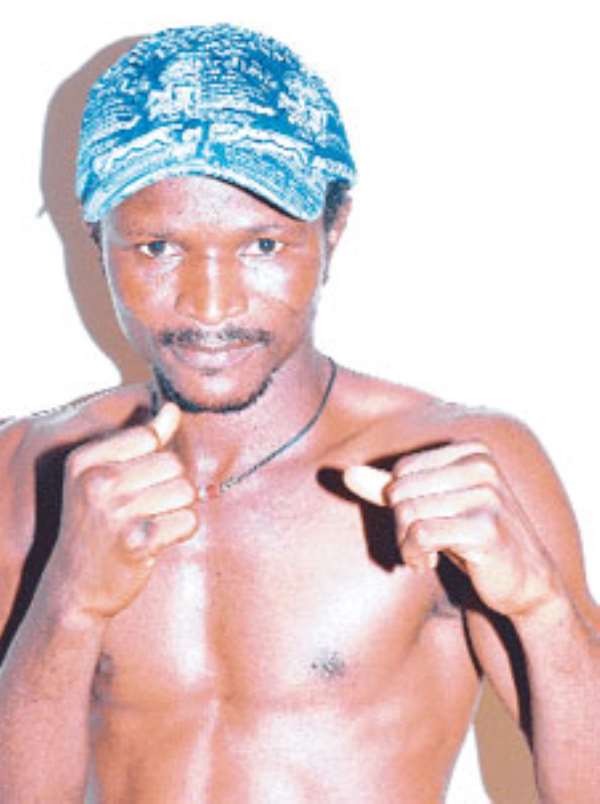 Accra, Oct. 26, GNA - Joseph "the Fresh King" Agbeko, Ghana's Commonwealth bantamweight boxing champion said he was in dire need of a fight to prove his readiness for a world title challenge.
In an interview with the GNA Sports on Wednesday, the Commonwealth champion, who returned from the United Kingdom a week ago said he was tired of training for long periods without getting an opportunity to fight.
"After training seriously in the UK for over six months without mounting the ring to showcase my talent, I decided to return home and see if I could get someone to fight me."
He said Mr Freddie Annan, his manager in the UK had a lot of discussions with boxing promoters and the managers of top British boxers but all fell through as the boxers were not ready to fight him.
"Even at this moment, there are talks going on in the UK about a possible date with Dale Robinson of Scotland, but I am not sure it will come on because after watching clips of my fights, they all give funny excuses in order to avoid me."
He said the lack of opposition nearly caused him his Commonwealth title but the GBA stood behind him to convince the Commonwealth Boxing Commission (CBC) that he was willing to stake his title but nobody was ready to challenge him.
Agbeko said his successful defence of the title in South Africa worsened matters because foreign boxers hardly won there and his authoritative victory in Johannesburg has frightened most of the contenders.
"At the Peacock Gym in London, many top boxers in the division came in incognito to watch me work out under coach Roy Hilder and after that, they pull out of discussions to challenge me."
The boxer who said he defied advice from Mr Moses Foh-Amoaning and Mr Justus Agbeko chairman and secretary respectively of the Ghana Boxing Association (GBA) not to travel to the UK said he regretted his action and asked them to forgive him.
"They assured me they would get a fight for me but I thought it would be easier to get fights in the UK, but now that I have realised my folly, I plead with them to connect some fights for me."
He appealed to local promoters to consider him when they make fights, adding that he was ready to fight anybody at all including Anyatei Laryea, "who I was told, was bragging in my absence that he could beat me."
To his fans, Agbeko said he felt very sad and disappointed by his inability to win a world title in 2005, but assured them that he would become a world champion before the end of 2006.