$100,000 for construction of new hockey pitch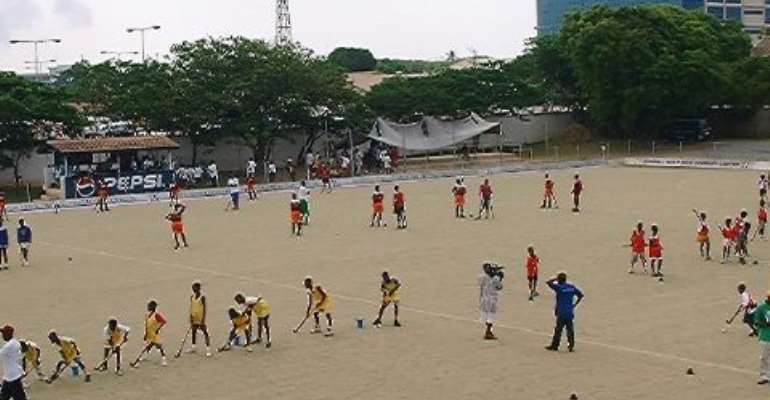 Accra, Oct. 24, GNA - The Ghana Hockey Association (GHA), is to make a formal application to the International Hockey Federation (FIH), to access available $100,000 dollars subsidy to construct a water-based synthetic (Astro) pitch.
The FIH at its September Executive Board Meeting in Santiago, Chile, told delegates that such an amount was available to one National Association for the installation of a new synthetic pitch or the renovation of existing one.
Mr Oko-Nikoi Dzani, Chairman of the GHA said he was in discussions with his colleagues of the Association to find an appropriate location for the new turf, if all goes well. He said it was likely that the current sand-based turf, situated near the Tema Station in Accra, would be relocated at a proposed site at Okponglo, Legon, in order for the new facility to be constructed at the heart of the capital.
The Chairman was optimistic that Ghana would access the money because she has good administration and organisation acumen plus her role in developing the sport on the continent. Apart from these qualities, which form part of the criteria, Ghana's relationship with the big wigs of the sport puts her a shade ahead of other possible contenders.
Ghana last received such assistance in 1999 through the Olympic Committee for the construction of the sand-based facility, which is now in tatters. The GHA was given $100,000 dollars but had to raise the remaining of the 250,000 US dollars locally.
Mr Dzani said the cost of the water-base turf was yet to be assessed, adding that the Association would have to brace itself to raise the local component.
The deal, he said was different from a promise made by the government to provide a modern pitch for the Association after the national hockey teams (Male and female) won bronze and silver medals respectively at the just-ended African Hockey Cup of Nations in Pretoria, South Africa.