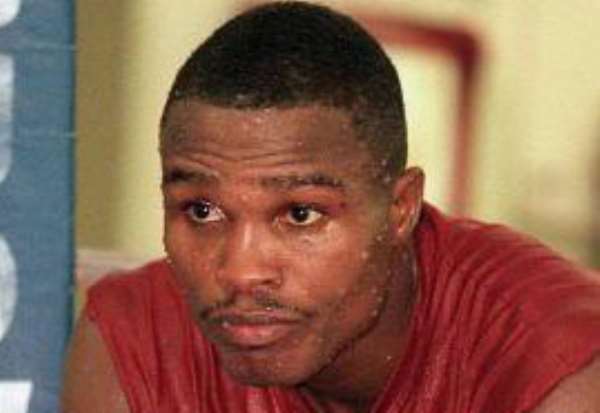 Ghana's middleweight title hopeful, Ike 'Bazooka'Quartey will set his jabs in motion once again as he stands up to Mexican Carlos'El Elegante'Bojorquez(25-7-6) at the Mandalay Bay, Nevada, USA, on December 3.
This is the second main bout on the much-anticipated Bernard Hopkins/Jermain Taylor rematch for which WBC, WBA and WBO middleweight titles are up for grabs.Jermain Taylor vacated the IBF title which he wrestled from Hopkins on July 16.
Ike Quartey's title hopes were thought dashed by many when Kassim Ouma lost his Light Middleweight title to Columbian, Roman Karmazin, on July 14.
But the former WBA welterweight champion says he is no longer interested in fighting Ouma "since he has lost one of the titles I've targeted.
I am now looking for tougher opponents,but all the same I will win on December 3 and bring home a world title by the middle of next year,"he declared confidently in an interview after his training sessions last Monday.
The 35-year-old former world champion has already begun sweating it out at his hideout gym at Kokrobite which is on the outskirts of Accra, with James 'Bukom Fire' Armah as his sparring partner.
"We began two weeks ago but Ike has picked up his rhythm in a realitively short time,"Trainer Dan Oko Odamtten told the Graphic Sports at his training session last Monday.
"We have also decided to watch clips of Bojorquez's best performances especially his last two bouts in which he recorded seventh round knockouts,"he added.
Quartey is following his initial plan of having two or more tune-up fights before leaping at another major title.
He began his much-publicised comeback journey on January 14 after flooring Clint Scott McNeil through an eighth round knockout at the Azumah Nelson Sports Complex.
On June 18,Quartey kept his comeback dreams alive when he staged a heroic act to defeat fellow former world champion,Verno Phillips,following a ninth round knockdown in Tennessee, USA.
With that show of class the former WBA welterweight champion gave his promoters a new lease of confidence.
Coincidentally Bojorquez lost to Verno Phillips last year in the IBF light middleweight championship bout.The usual predictions will suggest that the Ghanaian will add the 33-year-old Mexican to his victims,especially considering the fact that his last victim,Verno Philips,had defeated the Mexican before.
Bojorquez won the IBA Continental light middleweight title in January 2003 after defeating Grady Brewer in an eleventh round knockout and successfully defended it against Tony Marshall three months later.
He has since recorded losses to Ugandan Kasim Ouma, Verno Philips,Tarvis Simms and undefeated Canadian,Joachim Alcine.
After these painful losses the 33-year-old Mexican middleweight has made up with two successive wins in June and August against Jose Luis Cruz and Ryan Davis respectively.
Interestingly enough,he stopped both boxers through seventh round knockouts.The stakes on the December 3 bill are high since the results of the two main bouts will have many rippling effects on the rankings in the middleweight division.
A win for 'Bazooka,'who is currently eighth in the WBC rankings,will place him in good standing to challenge the winner of the Jermain Taylor/Bernard Hopkins which is likely to be staged by mid 2006.