Ghanaian Midfielder Patrick Arthur Wants To Make A Difference At Swedish Side Ängelholms FF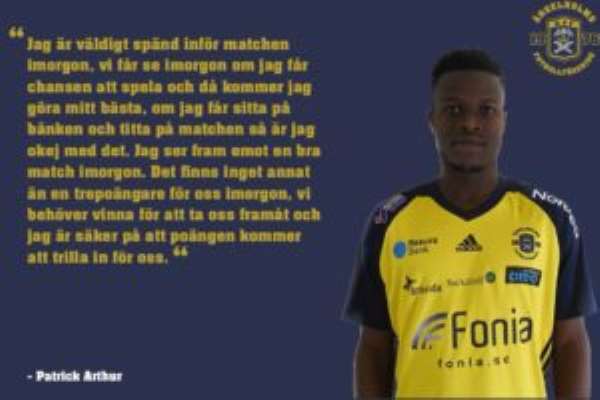 Ghanaian midfielder Patrick Arthur believes he will make a difference at Swedish side Ängelholms FF after joining the club on loan from Dreams FC.
The enterprising enforcer was one of the key cogs for the Dreams FC during the first half of the 2017/18 Zylofon Cash Premier League.
Arthur who is set to make his debut for Ängelholms V on Sunday against Skovde AIK is optimistic of turning around the tides for the struggling Swedish Division One side.
" Yes, Ängelholms FF has shown interest in me and shown that they believe in me. I'm sure I can help you to get up to the table at the end of the season," he told the club's official website.
The 21-year-old buoyed by his first day at training explained his strengths and how the team can benefit from his versatility.
"It went pretty quiet, the coaches told me what I did well and what I could improve. The weather was not good, but it went well anyway."
"I'm a defensive midfielder, but can also play as a central midfielder to support the backline and move the team offensive. I hope to contribute to the team with these characteristics."