Ghana's Ashong To Face Decastro For PBC Commonwealth Title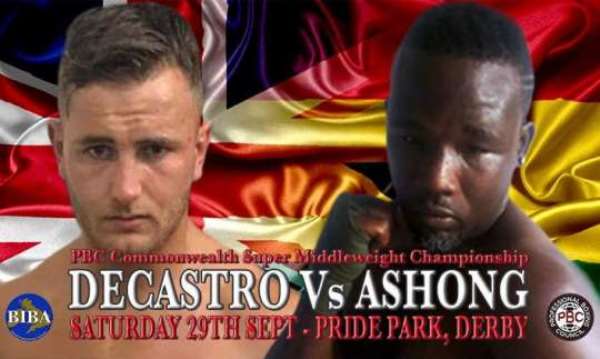 Agoe Ashong (11-1, 6Ko's), would have a shot at Professional Boxing Council (PBC) Super Bantamweight title, against Nathan Decastro (7-0, 5Ko's) at the Pride Park in Derby, in the United Kingdom (UK), on September 29, 2018.
The impressive Ghanaian boxer nicknamed "Odokor Tyson", who is currently the West African Boxing Union (WABU) Middleweight champion would get a chance to raise the flag of Ghana high against the undefeated British boxer.
Prior to the fight, Ashong remains optimistic of annexing the title and assured his fans of glory come September 29.
"I really appreciate my fans and I remain very confident of winning the title at stake. I'm in good condition ahead of the fight and I would certainly give out my best," Ashong said in an interview.
Ashong, who is an orthodox boxer had an impressive outing in his last bout against Francis Manda last March, as he handed his opponent a technical knockout to retain his WABU middleweight title.