Sierra Leone FA Offices Raided By Anti-Corruption Commission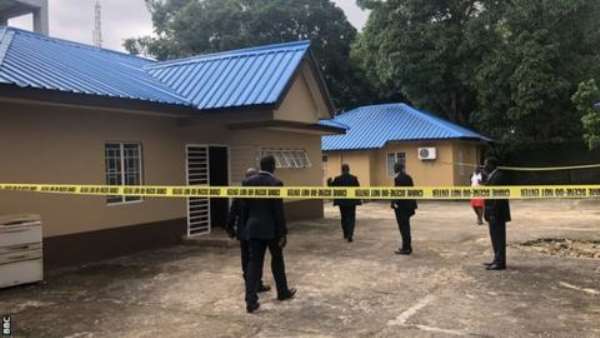 Sierra Leone's Anti-Corruption Commission (ACC) has raided the offices of the country's football association (SLFA).
The move comes exactly seven days after the ACC sent a letter for SLFA President Isha Johansen to step down.
The commission says under Sierra Leone law Johansen and her secretary general Chris Kamara must vacate their posts while they are being investigated.
Both Johansen and Kamara have denied any wrongdoing.
"Staff at the SLFA offices have been warned not to have any business with Johansen and Kamara and not to allow them into the secretariat," Alhassan Kargbo, the Deputy Director of Public Education and Outreach Department at the ACC, told BBC Sport.
The staff were allowed to continue their work but the ACC warned them that "anyone who goes against the orders will face the law (arrest)."
Kamara has also been invited to the ACC's offices in order to hand over the necessary computer passwords to Abdul Rahman Swarray, who it recognises as the acting secretary general.
Johansen acknowledged she had received the ultimatum but did not confirm whether she would step down.
Ahead of Tuesday's raid Fifa said it was "closely monitoring developments and plans to provide the Member Associations Committee with an update on 26 September."
The latest incidents come shortly before a scheduled visit by a Fifa task force carrying out its own investigation into potential match-fixing in Sierra Leone.
The four-man Fifa unit is leading a match-fixing inquiry that includes a World Cup qualifier between Sierra Leone and South Africa in 2008.
Since 2014, eleven officials and four players have been suspended by Sierra Leone's FA pending investigation, with all having denied wrongdoing.
"Fifa continues to expect that the agreed roadmap is strictly adhered to by all parties," said world football's governing body.
"In this context, the Inquiry Group Sierra Leone will be visiting the country soon to conduct its investigations."
Fifa is currently overseeing a roadmap which also concerns, in addition to the match-fixing investigation, delays to FA elections and agreeing the conduct of integrity checks on officials wanting to contest executive positions.
Johansen has previously been set aside by the SLFA Executive Committee but Fifa - which disapproves of governmental interference in the running of a national association - refused to recognise the decision and continues to work with her.
She was recalled to the Executive Committee a few months ago.
Sierra Leone has been without a domestic league for four years because of the divisions within the SLFA.