Appiah Denies Juju Claims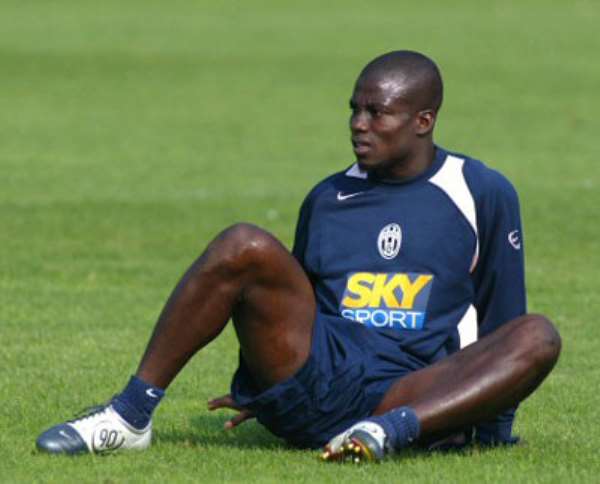 Black Stars captain Stephen Appiah has denied claims in some media circles that he paid money to a spiritualist for the national team to gain qualification next year's World Cup in Germany.
The 24-year-old was reported in Ghanaian media circles to have paid fifteen million cedis to one Pastor Joshua Nyame to exorcise a curse by the self-styled priest.
Pastor Joshua Nyame claims he orchestrated -through prayers- the Black Stars title-wining feat at the 1982 Africa Nations Cup in Libya and that promises made to him by the football authorities were not fulfilled.
However, Stephen Appiah has said since the story broke out on Ghanaweb, he has been inundated with talk of him consulting a jujuman to intercede on behalf of the Black Stars.
"I can confidently say that I am a good Christian and will not bend my faith in God for a jujuman or Pastor Joshua Nyame to secure qualification for the Black Stars," Appiah told Ghanaweb.
The Turkey-based midfielder added that he was embarrassed anytime Pastor Joshua Nyame was given the air time on radio stations to rant about the Black Stars.
"I am ashamed as a Ghanaian when I hear this man (Pastor Joshua Nyame) jump from one radio station to the other to talk what he claims he did for the Black Stars," said the 24-year-old.
"In fact I thought something should be done to stop this man from saying all these otherwise he will tarnish the image of the national team.
"I thought the best way to deal with this issue was to talk to him to stop saying all these things about the national team of Ghana."
The Fenerbache midfielder said after hold a meeting in the presence of the two sports journalists -Charles Osei-Asibey and Odeneho- who arranged the meeting, he realized Pastor Joshua Nyame was seeking financial gain.
"After talking to this self-styled pastor it dawned on me that he wanted money and I wanted him to stop talking about the Black Stars in that manner," Appiah said.
"I gave him 10 million cedis to stop him once and for all but this man thought I was scared of his so called curses and he kept on contacting me with more demands.
"I warned him not to get in touch with me again and he stopped.
"I only wanted to stop this man from disgracing Ghana but I did it openly by involving two journalists who can bear me out.
The Black Stars captain said the nation should not be distracted ahead of its Nations Cup and World Cup preparation.
"We should not waste our time addressing this pastor but concentrate on our preparation for the two important tournaments ahead of us," Appiah concluded.