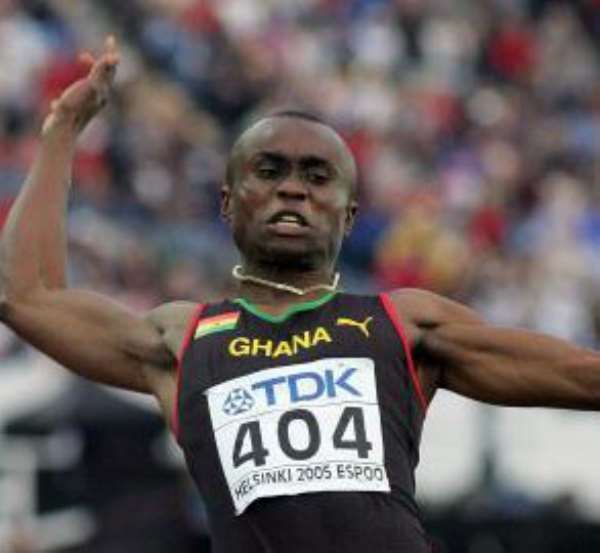 Ghana's first and only World Athletes Championship silver medalist Ignatius Gaisah has threatened to denounce his Ghanaian citizenship for another in Europe. This will make him eligible to compete in international competitions for the said country.
This thought has come about as a result of the seemingly unending disrespect and frustrations Ghanaian athletes go through to represent the nation in high profile intrenational competitions.
Gaisah, who won his silver medal at the World Championships in Helsinki, made these remarks in an exclusive interview with AUTHENTIC KAPITAL SPORTS at his residence in Kumasi today.
"I believe it is time for the Ministry of Education and Sports to learn to handle footballers and Athletes with the same level of respect and recognition" he said.
Gaisah added that it beats his imaginations when the authorities at the sports Ministry show grave preferential treatment against Ghanaian athletes.
"When our soccer players perform well, the whole country gives them the needed respect and praise but when we athletes play our part in Ghana sports nobody seem to care about us", he lamented.
He said before the World Athletics Championships in Helsinki, he had to raise his own money to camp in Portugal for intensive training because the nation did not have a proper training programme for them."
After all of this when I got to the games, the authorities told me that Ghana had no money and therefore gave everyone of the team a thousand dollars with a promise of paying them more when the team returns", he said. He explained that the authorities told them that winning Gold attracted $4000, silver got $3000 and Bronze $2000.
This package, Gaisah described as highly inadequate and added that the team was made to believe that the President Kufour had a special bonus for the team once they returned to Ghana.
"The authorities told us President Kufour had a special bonus for us but up till now nothing has been done about it. All they are telling us is that by next month we will get something special from the President, well we are still waiting for it".
He said what worries him so much is that as the first Ghanaian to have won a silver medal at the Wold Atheletics Championship, he feel so neglected and rejected by Ghana.
"Can you believe that when I was coming to Ghana, I called the Athletics office to inform them of my travel arrangements including my time of arrival. I was told that reservations had been made for me at the famous ALISAH HOTEL in Accra to lodge upon arrival. I was also told that i will be welcome on arrival, but when i got to the Airport, nobody showed up to welcome me and i had to move to the Hotel only to be told that there was no reservation for me" he narrated."
I was so shocked and amazed, in fact so much so that i began to think about taking the number of offers from countries around the world to naturalize and compete for them.
He said he has successfully rejected offers from a good number of European countries but after these odeals he has started considering those offers and Ghana should not be suprised if he decides to compete in the next international competitions in the colours of another country.
" I have committed my all to Ghana but if the nation fails to appreciate my efforts i think i must also think about how my family and i will survive"He concluded his frustrations.