Amaju Pinnick To Leads FIFA Team To Ghana Today Over Normalisation Committee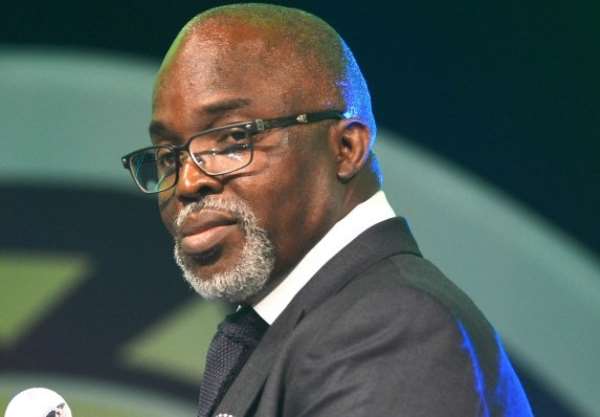 The president of Nigeria Football Federation (NFF), Amaju Pinnick will be leading a joint FIFA/CAF mission to Ghana elect people who will constitute a Normalisation committee tasked with running the Ghana Football Association (GFA) in the interim and organise elections for a new GFA executive committee.
The acting CAF 1st vice president arrived in Ghana on Tuesday with his team members where he is serving as CAF/FIFA Representative and Chef De Mission of the Normalisation committee to bring Ghana Football Association back to its footing.
Ghana football has been brought to a standstill following the airing of the Anas Aremeyaw Anas video that collapsed the foundation of Ghana football.
Several match officials and top Ghana FA officials including Kwesi Nyantakyi were caught on tape taking bribe.
The other members of the FIFA Normalisation Committee include;
Mr Veron Mosengo Omba, FIFA's Director, Member Associations and Mr Nicola Luca, FIFA, Manager, Member Associations.
The Normalisation Committee members will be tasked to;
- To run the GFA's daily affairs and cooperate with the special task force once it has been set up by FIFA, CAF and the Government of Ghana;
- To review the GFA statutes to ensure compliance with the requirements of FIFA and CAF, particularly art. 15 of the FIFA Statutes, and;
- Once the GFA statutes meet the requirements of FIFA and CAF, to organise and conduct elections of a GFA executive committee on the basis of the revised GFA statutes.
The specified period of time during which the normalisation committee shall perform its functions shall expire when all of the above-mentioned tasks have been properly fulfilled, but by no later than 31 March 2019.
All football activities in the country have been halted following the airing of Anas Aremeyaw Anas' Number 12 documentary.
Samuel Ekow Amoasi Appiah
Sports Journalist