The Ghana Swimming Association, the umbrella body for swimmers in the country has donated Waterpool equipment to the pilot water pool team of Awutu Winton Senior High School in Awutu Senya municipality of the Central Region.
The presentation of equipment to the pilot waterpool team was made possible with the support of Prince Asante Kofi Sefa-Boakye, a United States of America (USA) born- Ghanaian who has played waterpool in Spain, USA, Brazil among others around the world.
Speaking at the colourful presentation ceremony, the athlete said he has over the years tried to get in contact with the association since the last Olympic games in Rio but it was difficult in getting members of the association.
He noted that until recently that he was able to do so thanks to FINA, one of the movers in the sector.
Through her efforts, I was able to get into contact with the Ghana Swimming Association to also share some ideas on how to train more waterpool team in the country and to get them to the international competitions.
Receiving the items on behalf of Awutu Winton School; Mr Peter Donkor, a director at the school took the opportunity to thank the athlete for the honour done the school.
He said the swimming equipment will go a long way in the training of the youth in waterpool activities in the country.
He added the youth of the school are willing to learn skills in waterpool but the challenge over the years has been the availability of equipment.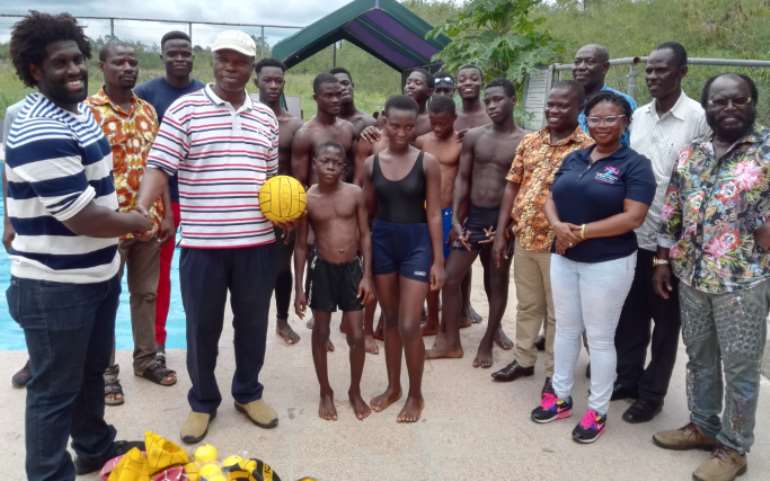 He was elated the equipment has come at the right time for onward training of the students in swimming activities.
The accomplished athlete was accompanied by his dad Dr Sefa Boakye, who is a medical Doctor in the USA
Also present at the ceremony was Farida A. Iddriss National Treasurer of the association, Mr Charles Mensah, a Board member and Mr Seth Nti, a Sports Development officer.