Charles Taylor Back In Ghana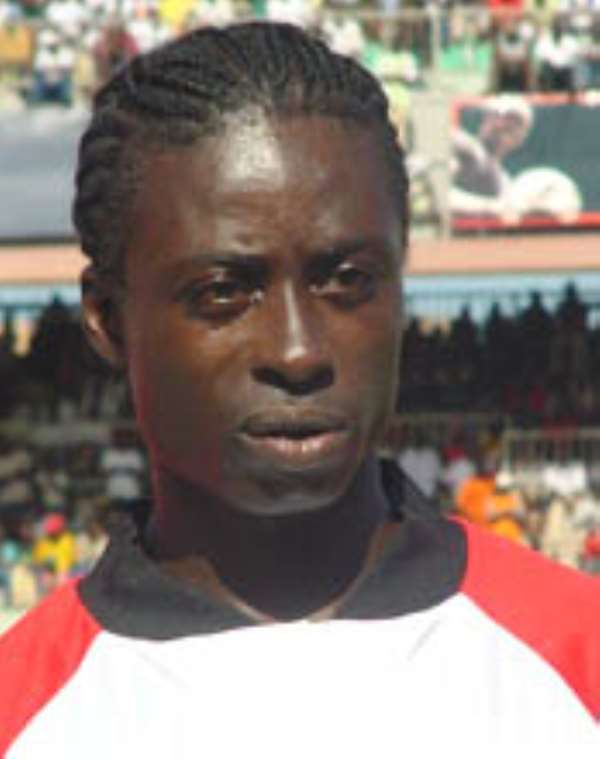 -supporters promised to help Kotoko IMT to bring him back.
Mercurial striker Charles Kwaku Asampong Taylor may see his cherish dream of playing professional soccer outside the shores of Ghana suffered a setback due to reasons best known to him. It will be recalled that ever since he was signed on by the Tunisian side Etoile du Sahel,life in Tunisia have not been all that fine for the Ghanaian international both on and off the field.
Charles Taylor who refused to talk on air said he arrived last night and was in bed due to tiredness said he has held various discussions with top Kotoko officials before he emplaned to the country but was quick to confess that the amount involve is quite huge.
He said, his desire to play for Kotoko again is paramount and is only hoping things will be speedy up so that he can feature in the next seasons league.
On Black Stars qualification to next years mundial which he was part of the team during the initial stages, he congratulated his colleagues for the good job done. He also said since it is the wish of every footballer to play at the world cup he will put in necessary effort to earn a call up to the Black Stars again.
With this, callers were asked to express their view on Charles Taylors possible come back to Kotoko on ever powerfull MERCURY SPORTS mid-morning programme called BLANT SPORTS today
Many were of the view that they don't understand why Kotoko transferred the player to Tunisia while the should have kept the player to help them in both domestic and international matches.Which would have won them more laurels and financial reward.
Others attributed low turn out at the clubs matches to lack of players with deft touches and cloud pullers in the team. Therefore it will be beneficial if management put resources together to bring him back.
One caller said ever since Charles Taylor and Stephen Oduro were transferred from the club he has not been to the stadium again to watch matches involving Kotoko again since he cant spend too much money to go and watch ordinary player who add no beauty to the game.
But a member of Kotoko's Circle 156 said as usual practice,the supporters are ever prepared to help management financially to bring their cherish assest back to the team.He said they did the same when Taylor was moving from Hearts of Oak to Kotoko .