Maxwell Konadu Insists Lack Of Infrastructure Hindering Players Development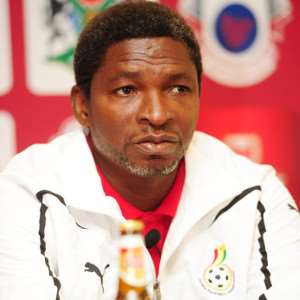 Deputy coach of the Black Stars Maxwell Konadu has insisted that there is abundant of talents in Ghana but lack of adequate infrastructure for the players to exhibit their talents is hindering their development.
According to the former Asante Kotoko gaffer, who doubles as a scout for the Betway Talent Search, Ghana possess so much talent but their development is being hindered by lack of quality infrastructure.
'We can attest that the quality we have seen here is very high and there a lot of talents here in the country," Konadu told The Finder at the Betway Talent Search Accra edition held at the University of Ghana Stadium over the weekend.
'The problem we have in the country is all about infrastructure. If we have the good and quality infrastructure, we can groom top and quality players every year or two. But when the players are playing and training on a rough surface it is very difficult."
'They are good but it takes time for them to get to that level. But if we have the good pitches, they adapt quickly and we see the quality in them."
For more Ghana football news visit www.ghanasoccernet.com