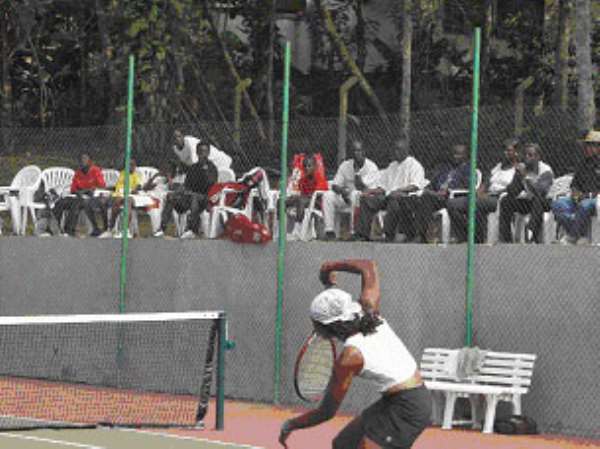 Accra, Oct 12, GNA - The Ghana Tennis Association is considering the prospects of participating in the Fed Cup Competition, which is the ladies equivalent of the Davis Cup in the near future. Mr Charles Kudjo Atta, the General Secretary of the GTA in an interview with the GNA Sports said the idea of participating in the competition has been lingering on their minds for some time now and are therefore waiting for the right moment to make the move.
He said that even though it is not right presently, the occasion is not far off as steps are being taken to ensure that the nation gets a decent crop of female players to ensure that they participate not just for participation sake.
"Participating in the Fed Cup will come with a lot of advantages for the ladies game, which currently lags way behind that of their male counterparts".
The GTA Secretary General said it is the belief of the association that Ghana's participation would for the first time mainstream the ladies game during the three days that the tournament would be held so as to serve as the needed catalyst for further growth in the sector. Mr Atta said for Ghana to make the needed impact when it enters the competition, plans are afoot to ensure that the budding talents that emerge through the ladies ranks are given the needed encouragement to take up the sport full time.
He said as a first step, the GTA will soon sponsor two girls - Thelma Parker from Prampram and Emma Cudjoe of Winneba to the International Tennis Federation (ITF) Trainers Assistance Training Centre in Pretoria for further training and development.
Mr Atta said the month long training camp is to ensure that other girls get the message that when they take tennis serious the association would give them the needed push.
Though many talented female players emerge through the ranks in Ghana, most of them fizzle out early due to the lack of competition. The only female talent up to date that is worth mentioning on the local front has been Alima Mohammed who won an ITF sponsorship to South Africa for a similar polishing exercise but like the other ladies, nothing much was heard from her.
The two girls will join five other Ghanaians - Fred Egyir, Manford Owusu, Michael Nortey, Emmanuel Kpodo and Emmanuel Mensah who are currently studying at the Institute.
Ghana's association with the ITF training institute in Pretoria has been on-going for some years now as the current national number one, Henry Adjei-Darko also had a year's stint at the same place on an ITF scholarship.