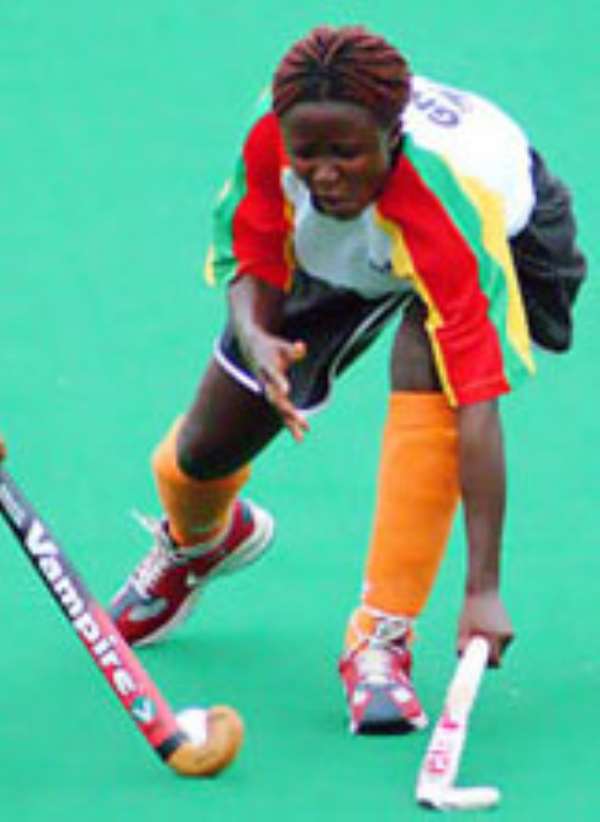 Pretoria, Oct. 10, GNA - Young Elikem Akaba, 19, who this year gained promotion into the male senior hockey national team, made his coaches proud when scored his second goal of the tournament as Ghana thumped Nigeria 2-0 to take bronze at the just ended Africa Hockey Cup of Nations. He popped up from nowhere to poke the ball into the net from a "free ball" on the stroke of full time, just as he did when Ghana thrashed Namibia 5-0 at the group stage. Joseph Appiah gave Ghana the lead on 40 minute but the team came under a sustained pressure from an aggressive Nigerian side. But as they pressed forward for the needed equaliser, substitute Akaba punished them for loose marking at the rear.
The Black Sticks ladies on the other hand, failed to redeem their image against South Africa in the final match. Although they won silver, they were unable to stop the host from demolishing them 6-1. Goal king, Henna Du Buisson struck twice while Tarryn Bright, Candice Forword, Lindsey Carlisle and Wehmeyer Sharne netted one each for the winners. Stalwart defender rejoice Noi pulled one back for Ghana but it was too little, too late. Two goals from Davin Janine were enough for Namibia to shock Nigeria ladies to take bronze. Queen Anunwa managed to reduce the tall by a goal for Nigeria, but it was not enough to turn the clock backwards.
Seventy minutes of pure magic and passion characterised the much-publicised South Africa- Egypt male finals, which failed to produce a goal. But in the end, South Africa triumphed 3-2 on penalty strokes after uncompromising extra time. Both the male and female teams of South Africa will represent the continent at next year's World Cup in Germany and Spain respectively while Egypt's men would engage in a play-off against the runners up in the European, South America and Afro/Asia championships in China.