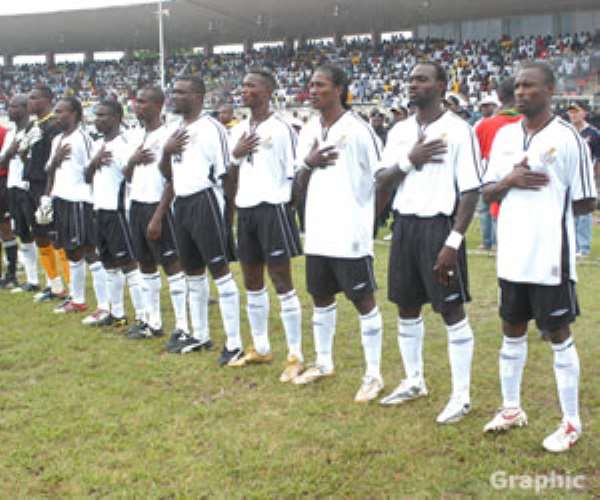 Praia, Cape Verde, Oct 9, GNA - Players of Ghana's national team, the Black Stars are to be rewarded with a special package following their vintage performance which on Saturday qualified the country to her debut World Cup appearance.
The Stars notched home four unanswered goals in their final World Cup qualifier against Cape Verde in Praia to ensure the country answered the roll call for the Germany 2006 event next summer. Yaw Osafo Marfo, Minister of Education and Sports told the press after the victory in Praia that, "all the players would receive a special package in addition to the normal bonus as a 'Thank You' gift".
Members of the team are to receive 8000 dollars each as bonus for winning the ultimate qualifying duel that ensured they topped the Group made up of five other countries with 21 points from 10 games. Though the Minister did not disclose the content of the supposed package, he said, "We have a surprise for them and I can assure you that it is a huge one".
On the next plan outlined for the team, the Minister said, "we would tour the whole world with the sole aim of hunting for every Ghanaian player in our quest to build a solid squad for the Germany campaign". He emphasised on the government's commitment to bring everyone on board so as to provide the team with the desired option. The Stars won six times, drew four times, and lost once in the qualifiers, which began a year ago.
In a group that had pre-qualification favourite South Africa, the Ghanaians proved the pundits wrong by selling out the country's best performance in the second leg qualifiers after their initial set back in their 1-0 defeat to Burkina Faso in the opening game. The Stars twice emerged victors over South Africa, drew twice with the Democratic Republic of Congo, won 2-0 and 4-0 over Cape Verde, defeated Burkina and Uganda in Kumasi but drew in Kinshasa.