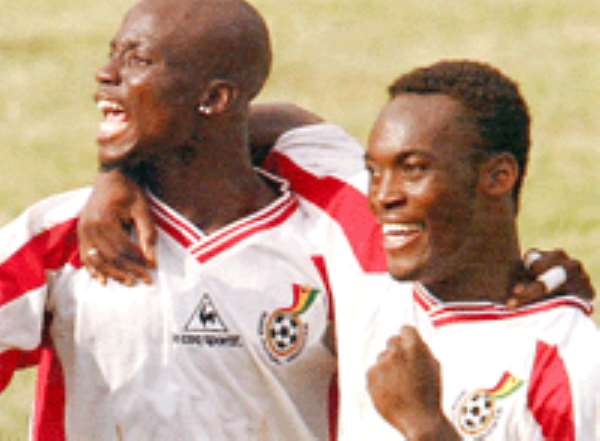 THE last time I commented on Ghana's World Cup qualifier for TV3, thinking the qualification was near, I was so excited I lost my voice and in the process threw professionalism to the wind.
That early celebration by not only me but also a significant section of the population was in a sense premature but on Saturday at about 6pm if Ghanaians pour unto the streets of Accra and beyond to celebrate the nation's journey to Germany next year, it would be perfectly in order.
Never has Ghana been this close to the world football fiesta. In the past, the final weekend of qualifiers always came with no hope for Ghana. We watched as other countries hogged the spotlight and claimed all the glory.
Not this time because one point will right a historical wrong that we ourselves have authored over the last years. Four nation's cup triumphs, a string of fine victories at the junior level and the production of such players like Abedi Pele and Tony Yeboah fit enough to grace the world stage have all not fetched World Cup qualification.
That historical fact will definitely change on Saturday when the Stars, along with a number of Ghanaian soccer fans, storm the island of Cape Verde to deliver the World Cup berth.
One point will seal it and the prayer of many Ghanaians is that the last game in Praia on Saturday will not follow the pattern of the first world cup qualifier in Ouagadougou. In that game, the Stars held their own for eighty minutes before a minute of collapse coupled with Burkinabe brilliance ensured the qualification got off a poor start again.
Remarkably and to the credit of the entire team, the campaign was back on track ever since going seven games without losing. That fine run, should it continue will inevitably fetch a first World Cup appearance.
Even though you wouldn't notice if you were a first time visitor, this is a country pregnant with hope. Like would be mothers, Ghanaians are anxious to join the elite football nations next year and a media aware of the implications, is doing it's best to raise the hype.
Witness The Statesman's brilliant running piece on Michael Essien. TV3 network has been running a highly charged promo with goals from all previous games of the Black Stars urging us all to "join our hands because the moment has come". At Joy FM, they have been running a special show in the run up to Germany already.
Apart from the locals, the foreign press is invading Accra in large numbers. With the team likely to fly directly to Accra after the game in Praia, every major media house will be keeping a close watch on how Ghanaians celebrate this unique moment of history.
So the BBC is running two special editions of it's African sports programme Fast Track from Accra today and Monday.
All of us will be hoping that the coverage will be dominated by the wild scenes of celebrations across the country and not the scenes of despondency from being so close yet so far.
The possibility that Ghana might miss out on this historic moment barely crosses the mind of anyone here. It can't possibly happen is what we've been told but the men in charge know they must leave nothing to chance. Coach Ratomir Dujkovic has already spoken about how his team is prepared to take on the world even though he admits the team must get the job done first in Praia. The record of the team in previous suggest they will get the job done but it is important even in this moment to show Cape Verde a little respect. They have nothing to lose. With a population of just 600,000 qualifying for the group stage of this competition alone has been a monumental achievement. But it is when sides have nothing to gain and play for that they have troubled Ghana the most. And it is often when the stakes are highest for Ghana that the country has conspired to blow it.
Remember Tlemcen in 1990? We needed one point and blew it against Algeria, losing with the last kick of the game. And then Rwanda for the Cup of Nations. There is of course a major difference between those games and the upcoming one on Saturday. Unlike Rwanda and Algeria, Cape Verde has nothing to play for. And this time Ghana can lose and still qualify.
It must also be comforting for any Ghanaian fan that South Africa will have no option but to play this at full strength even though their players, by refusing to report to camp early, are not demonstrating that.
Bafana Bafana and Congo DR both need a point from Saturday's game to seal a place at the Nations Cup, a fact which should make their meeting in Durban a lot more interesting.
For us in Ghana, the point of interest in Saturday's game is obvious. Thanks to TV3 and the many radio stations across Accra, we can follow events in Praia with keen interest.
The line up is one that will be familiar to us too. Sammy Adjei will retain his place in the Ghana post this time as a member of Ghana's foreign based players after joining Israeli side Ashdod from Accra Hearts of Oak. John Mensah and Issah Ahmed have the central defence area locked out but as always it is the midfield where Ghana's class and quality should shine.
Dujkovic can call on three players all having a ball at their club sides. Michael Essien has far been doing a decent job for Chelsea and even though he is yet to score in their blue shirt, the three goals he has contributed to the World Cup qualifying campaign suggest he would come in handy. Stephen Appiah seems to be enjoying himself in Turkey and will as always be the team's creative and inspirational figure. Sule Muntari will be hoping to bring his rich vein of form with Udinese to bear on the Stars in a midfield that should please us well.
If they gel, we've got both feet in Germany regardless of what happens in the Durban game.
And I hope this time, when I scream behind the microphones while running commentary, you will understand. This dream that is about to become real is too special to warrant normal behaviour. Get set for the big party.
Black Stars probable line up: Sammy Adjei, Samuel Addoquaye-Pappoe, John Paintsil, John Mensah, Ahmed Issah, Michael Essien, Laryea Kingston, Sulley Muntari, Skipper Stephen Appiah, Matthew Amoah and Joe Tex Frimpong. Reserve team: George Owu, Philemon Quartey, Dan Quaye, Haminu Dramani, Hamza Mohammed, Dan Edusei, Illiasu Alhassan, Yusif Chibsah, Emmanuel Duah and Asamoah Djan.