Charles Taylor Laments Lack Of Quality Players In The Local League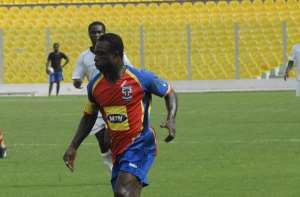 Former Hearts of Oak and Asante Kotoko darling boy, Charles Asampong Taylor has lamented the lack of quality players on the local scene.
According to the former Hearts poster boy, the crop of players currently playing for clubs in the Ghana Premier League are not qualified.
"Most of the players are not good, they are not qualified to play for premier clubs. During our heydays, we never relied on referees for favours so even if a referee made a mistake, the supporters had confidence that we could deliver on the pitch", Charles Taylor disclosed today in an interview with Happy FM.
Despite making this submission, the player who used to entertain many supporters on the field of play also emphasized that there are players with quality who play like how they used to play in the past but are not given the chance to showcase their talent.
This he believes is because of corrupt practices where such good players are not able to raise the money required of them to earn them first team football.
"There are some players who play like us currently, but due to corrupt practices, they don't get the chance to showcase their skills, probably because they are not able to raise the monies required to pay their way to a first team place in their respective clubs".
Tagged "the wizard" during his playing days because of his skills and mesmerizing displays, Charles Taylor also cited that back in the days you could not hear of names of past players like Shamo Quaye because they could equally play good football like them.
"Back in the days, you rarely heard names of players like Shamo Quaye, because we had great players like Ishmael Addo, Stephen Oduro, Ahin-Dua, Osei Kuffour and myself who could equally do what Shamo Quaye did", he added.
He further observed that supporters have lost confidence in the clubs and players. Due to that when a referee makes a genuine mistake on the field of play and a particular team losses the match, the supporters channel their anger to the referees instead of blaming the players for lack of performance.
He also advised that stating the league now will not be a good idea because supporters do not trust them. Therefore the least mistake they make during a match might attract beatings from fans and might lose to a referee losing their lives.
"Starting the league now is not advisable at all. Right now everything is in the hands of supporters. If we make the mistake of starting the league now, referees will be killed because fans are really angry at them so any little mistake by a referee will attract some beatings".