FIFA U-20 WWC: Black Princesses En Route To France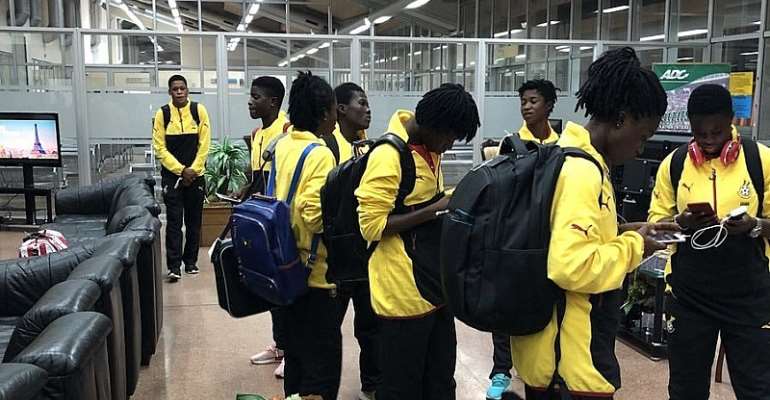 Modernghana Sports can confirm that Ghana's U-20 Women's team, the Black Princesses has departed the country for France where the FIFA u20 Women's World Cup will be staged.
Confirmed reports suggest that Ghana's U20 female national team has already left Accra and are currently in Holland where they will transit to France later today.
After not being able to travel to Spain last week Wednesday for the final preparations for the world cup, there were fears the team might just not be able to travel to France today.
Reports however also reveal only eleven (11) players and eight (8) officials made the trip as a result of poor travel arrangements. The remaining twelve (12) players are expected to join the team tomorrow.
The team will now have to do final preparations in France after failing to honour scheduled friendly matches in Spain.
The team was supposed to play with Brazil and Spain's women U-20 team before moving to Paris for the tournament proper but because their trip to Spain was cancelled those matches did not come on.
In an interview with Modernghana sports last week, Coach of the Princesses Yusif Basigi in an interview disclosed that despite the setback, the team is confident and motivated.
He disclosed that they are poised to go to France and raise the flag of Ghana very high.
The Black Princesses are in Group A with host Nation France, the Netherlands and New Zealand. Tough oppositions who came close to winning the previous tournaments they played in.
The tournament will commence on the 5th of August and end on August 24th.
Eric Nana Yaw Kwafo
Journalist