Turkey & Bust: Fenerbahçe Move Marks Beginning Of Dede's End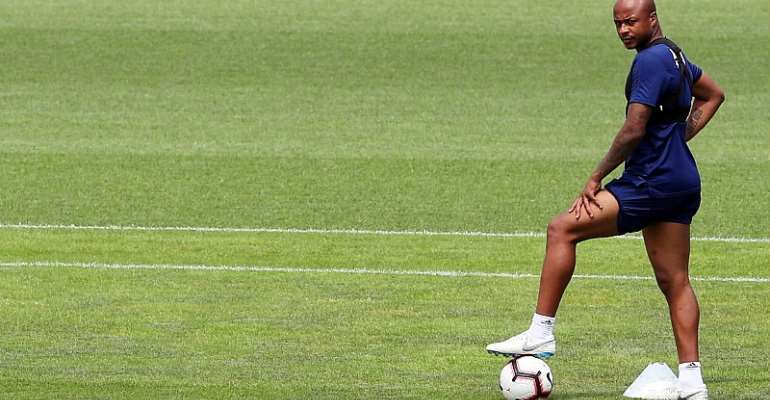 It's officially supposed to be no more than a year's loan, but — especially with Fenerbahçe having the option of making the deal permanent afterwards — Andre Ayew's move to Turkey this week already feels like an all-new chapter in his career, a page that would never be flipped back to the coast of South Wales.
On the plane to his new home, Ayew sat beside his father and a key figure in the negotiations, Abedi — also known as Ghana's greatest ever footballer. The younger man seemed quite excited, even posting a video on Twitter which, although of a mere six-second length, fully captured his glee.
This, no doubt, was one very happy Ayew.
Whether or not he should be, though, is another question. Yes, he's leaving a club just demoted to English football's second-tier. Yes, he's joining the record Turkish national champions. Yes, Fenerbahçe actually paid a cool fee to push the deal over the line. And, yes, in a country with Turkey's incredible diversity, there's so much life to look forward to.
But there is the feeling that all of this draws Ayew ever nearer to the twilight of what has been a somewhat disappointing career. With the blood that runs through him and all the brilliance it comes with, as well as his own remarkable tenacity, Ayew should still have been competing in a really, really top league — no disrespect to Turkey's Süper Lig – at this point.
And he should have had much more to show, too, having played at a satisfactorily high level for so long. A blistering start at Olympique Marseille saw Ayew threaten to become the sort of talisman his father was for Les Phoceens in his own time, before a transfer to Swansea City — not exactly an upgrade in itself but appreciable enough within the context of the Premier League's bright lights – in 2015 lifted the former Ghana youth star to arguably greater heights.
Ayew excelled on that platform, scoring enough goals and putting in an overall solid effort to help save the Jacks from relegation. A move to West Ham United immediately followed, with the East London outfit breaking the bank to seal a transfer which perhaps suggested Ayew had finally arrived. The general belief was that, from the British capital, the trajectory would only head upwards for Ayew, but it all soon began to go seemingly inexorably south.
In 18 months, Ayew rarely ever felt – never mind looked — world-class. Flashes of brilliance there were, yes, but those moments didn't come with the consistency to ensure he'd repay the faith and funds the Hammers committed to his capture. Fitness issues took their toll, while standing out was rendered an even tougher task in the frustrating mess West Ham were for much of the Ghanaian's time there. In the end, Ayew couldn't quite manage it and failed to last the three years he'd originally been contracted for.
Even so, former employers Swansea were only too willing to take him back, deeming Ayew good enough to command another club-record fee, albeit a little less than the £20.5 million they'd received for him three windows prior. But the slightly lowered price tag hardly provided Ayew with any reprieve, with the forward doing little to inspire the Welsh side in an ultimately vain quest to beat the drop. If Jordan, his younger brother and teammate, proved hero of Swansea's futile fight, Andre didn't even do enough to claim a sidekick's role.
Such is his quality, though, that regardless of what is clearly a dip in form, Ayew never lacks suitors, which is why Fenerbahçe showed up to spare him the misery of competing in the Championship. Still, the remarks of new Swansea boss Graham Potter in confirming Ayew's departure earlier in the week — that the big exit is "part of the restructure of us going forward" — suggests a certain relief to see the player's back; and not that Ayew's latest station promises many more comforts.
Turkey may be a good destination for a footballer — surely better than China, life Down Under, or even the MLS — but many Ghanaian players have made it feel like just another of the aforementioned 'retirement homes' over the years (unless you're former Ghana goalkeeper Richard Kingson, of course, in which case you could decide to build an entire career out there in relative obscurity). It certainly proved so for ex-Ghana captain Stephen Appiah years ago, as is now the case with Asamoah Gyan, the man Ayew deputizes for as current skipper of the Black Stars.
Champions League football is assured in the Asian half of Istanbul for 2018/19, but remember the Efsane — who, without a domestic trophy since 2014, aren't having the best of times themselves — don't reach the group stage until they successfully push past two qualification rounds. And while there appears a feeling of freshness about the Şükrü Saracoğlu Stadium this summer – with debt-ridden Fenerbahçe coming under the new leadership of reputable Ali Koç (Chairman), Damien Comolli (Director of Football) and Phillip Cocu (manager) — those good vibes could yield little for Ayew in the long run as, at the end of his year-long temporary stay, he'd either be poor enough to deserve nothing better than Turkey (sorry, again) or too poor to be retained by Fener.
It's a lose-lose situation, really, but Ayew would take it for now. It's the best that, five months from turning 29 and clearly on the wane, he can get. The least he could do, per the advice of compatriot and former Fenerbahçe man Yaw Preko, is accept this new challenge fully with his "heart": the one commodity Ayew never seems to run out of, it seems, even when the chips are at their lowest.