Maurizio Sarri Plans Talks With Chelsea's Eden Hazard, Thibaut Courtois And WIllian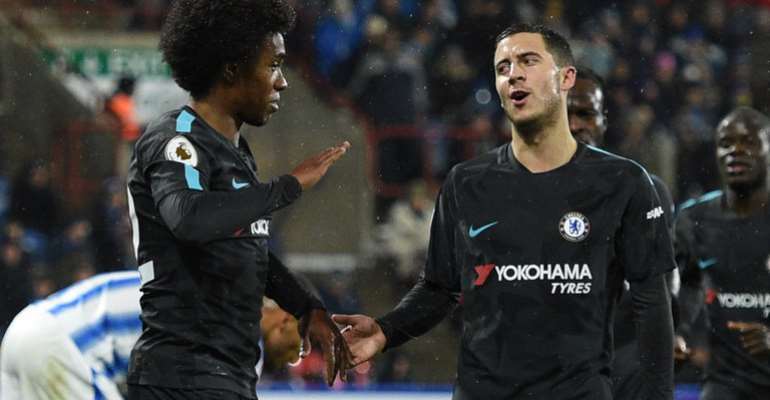 New Chelsea head coach Maurizio Sarri says he intends to speak to any players wanting to leave the club by the end of July.
Goalkeeper Thibaut Courtois, forward Willian and playmaker Eden Hazard are all reportedly considering their futures at Stamford Bridge next season.
However, speaking after watching Chelsea beat Perth Glory 1-0 in his first game in charge of the club, Sarri confirmed he was planning face-to-face discussions with the trio when they report for pre-season training.
Belgium internationals Hazard and Courtois have both been afforded a three-week holiday following their World Cup exploits and are not scheduled to return to Cobham until August 5 or 6.
"I like to talk to a person face to face. I do not like to talk to a person by telephone," said Sarri in his post-match press conference.
"I do not know, it depends on the club (whether they stay). It is clear that for me, it is a pleasure to have Courtois, to have Willian, to have Hazard.
"But it does not depend on me, so we have to wait, I am confident."
When pushed as to when exactly he may be sitting down with the players in question, the Italian said: "Face to face, at the end of the month because they will arrive at Cobham (Chelsea's training ground) at the end of the month."
As for the match itself on Monday, Sarri was happy with his team's first-half showing at the Optus Stadium, with Spain forward Pedro opening the scoring after just five minutes.
But after a whole raft of second-half changes in Western Australia, Chelsea lost much of their rhythm thereafter, with Sarri demanding more work on the training ground between now and the start of the new campaign.
"I think something good, especially in the first half, less in the second half as we lost the distance between the defenders and the midfielders," he said.
"We have to go back to Cobham and work very hard and we know we have to improve very quickly."