Expectations For Ghanaians When Coming To The US For 2026 World Cup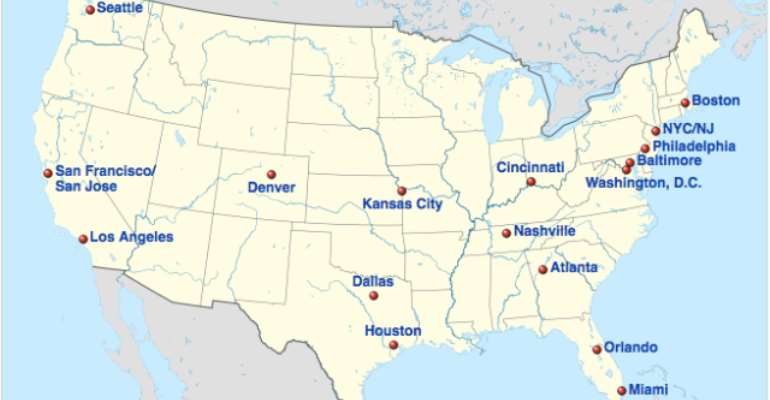 The 2018 Fifa World Cup has officially come to a close, with France winning it all in the final against Croatia this past Sunday. It is now time to head back to the drawing boards in preparation for future World Cups. Being from the United States, I am extremely excited that North America received the bid for the World Cup 2026, with the majority of the games played in the U.S.
If/when (we are confident) Ghana qualifies for the 2026 Fifa World Cup, there is much to expect when making your travels to the Americas. Having lived in the United States my entire life and currently interning at Multimedia Group Limited here in Ghana, I offer a unique perspective on the similarities and differences between people and cultures, as well as must-see sites and activities for you to enjoy. The following are tips for what to expect if you go to either the east or the west.
The people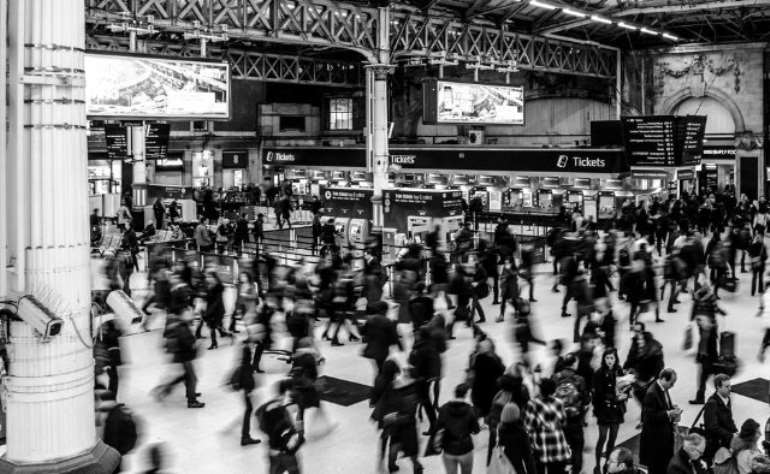 Subway Station
Firstly, Americans are constantly on the go. When heading to work or just walking around town, they are moving at a much faster pace than Ghanaians and tend to be on tight schedules. There is a sense of urgency in our lifestyle that does not seem to exist here in Ghana… unless when driving a car, that is a different story.
Also, American's are often less talkative to strangers, meaning they tend to mind their own business. Once they get to know you, however, they will become much more engaging and open. But when passing one another on the street or on public transportation they tend to keep to themselves. If you are ever lost, however, feel free to ask anyone for help with directions.
American also needs a lot of elbow room, meaning they often expect more personal space compared to other cultures. When eating at a restaurant, tipping the waiter or waitress is expected unless they are extremely rude to you. Lastly, prices for commodities are set in stone. Bargaining at markets or when requesting a taxi does not exist and can be seen as disrespectful in American culture.
The place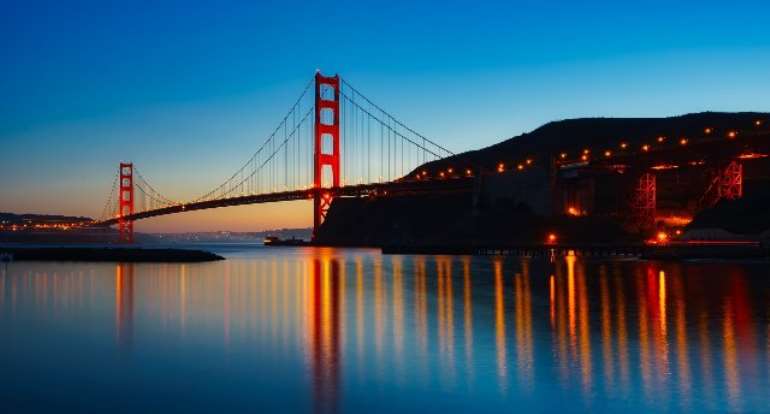 Golden Gate Bridge
For the most part, big cities in the United States are very clean. The buildings are massive and architecturally beautiful. Traffic is constant in and around large cities however when travelling to rural towns, there is much more open, relaxing space. Street names are used for sense of direction and location.
Americans typically use cashless transactions, however using the U.S. dollar will work just fine. Throughout the U.S. you will find a well-structured transportation system. When in large cities there are train-like "subways" that move quickly and sometimes underground to get you from one side of the city to the other without traffic. In smaller towns and cities there are always large busses to get you to your destination. There are also taxis and Ubers however they tend to be more expensive than public transportation.
The food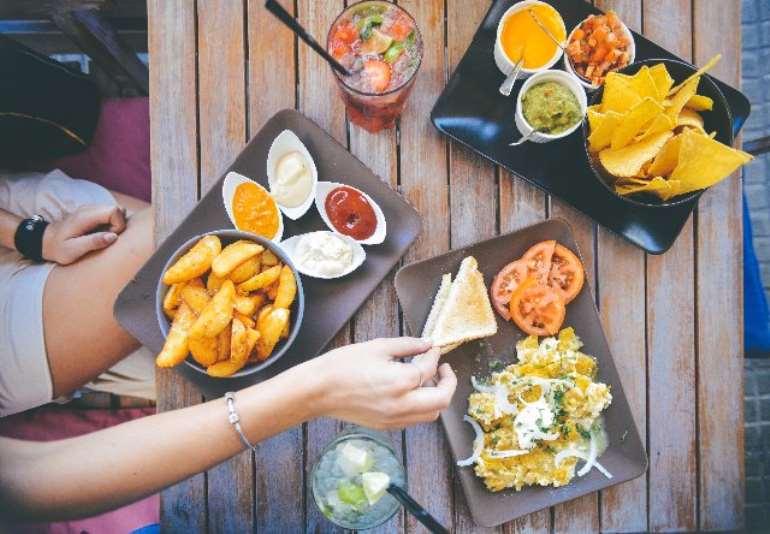 Mexican-American Cuisine
There are less outdoor markets but more restaurants on every corner. America has a wide range of food choices… from Japanese sushi to Italian spaghetti to Thai food; there are endless options to choose from around the world. There is also a lot of fast-food (unhealthy but cheap) options. Typically, most foods tend to be less spicy than Ghanaians are used to so they may find some food bland.
Places
Every state within the U.S. has something that sets them apart. What is so fun about America is how various it is in climate as well as culture depending on where you are.
The East Coast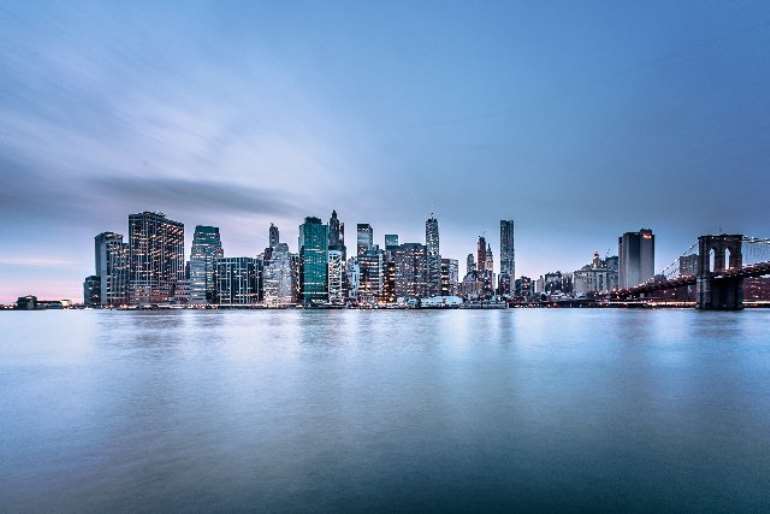 New York City, NY
Firstly, when on the east coast you must try their seafood. They have fresh caught lobster, shrimp, various fish and more that are extremely tasty. Along with the seafood, there are numerous destinations to visit depending on where you are. The following are different sites to see up and down the east coast:
You cannot come to the east coast without visiting the Big Apple, specifically, Time Square. To walk around the city and gaze at the monstrous buildings is jaw-dropping. Central Park is the largest park in Manhattan and is a fun and peaceful place to walk with your friends or family. It has a route of approximately 2.4 km with six famous attractions along the way.
Boston, Massachusetts
Visit historical Plymouth Rock, walk the freedom trail, explore Beacon Hill or gaze over Charles River Esplanade. Also be sure to head over to Harvard University, one of America's oldest and most prestigious colleges.
Washington, D.C.
Along with New York City, Washing D.C. is a must visit destination. If you want to learn about American political history, D.C. is home to the capital of the United States with historical landmarks including the Lincoln Memorial, the Supreme Court, and the most famous house in the country: the White House.
Miami, Florida
Miami is vibrant, outlandish and unique in design and culture, with heavy Cuban influence. Enjoy Cuban food, sandy beaches and warm blue water. They also have great nightlife!
The West Coast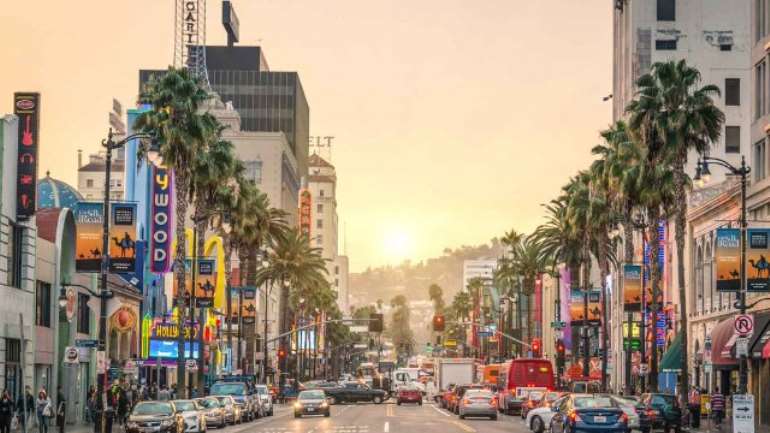 Los Angeles, CA
As many people say, the west coast is the best coast. This can be true in both the U.S. and Africa! With relatively warmer weather (especially during the summertime), and the laidback nature of the people, there are infinite places to visit and relax. The following are just a few places to visit if the World Cup 2026 takes you to the west coast:
San Diego, California
At the south end of the west coast, San Diego is home to some of the best beaches in world. With an extremely laid-back vibe, it is a great place to learn how to surf! Being close to the Mexico border, try some local Mexican quinine.
Los Angeles, California
The City of Angels has a wide range of activities to choose from depending on your personal interests. If you are looking for beaches and outdoor markets, Venice Beach is a beautiful part of town right on the coast. Disneyland and Universal Studios are two of the best amusement parks in the world, a great place to bring your family. Lastly, make sure to walk down the numerous famous streets including Sunset Boulevard, Rodeo Drive and Hollywood Boulevard.
San Francisco, California
The Bay Area is a filled with must-see tourist attractions. The main attraction is the Golden Gate Bridge, which overlooks all of San Francisco Bay. Also, make sure to visit Fisherman's Warf and Alcatraz as well as Union Share for shopping.
Seattle, Washington
If you love coffee, Seattle is the place to visit. Be sure to spend some time in Pikes Place Market and eat on top of the Space Needle at Sky City restaurant. Experience amazing views and try some famous clam chowder.