2018 World Cup: Croatia 2-1 England: 11 Things We Learned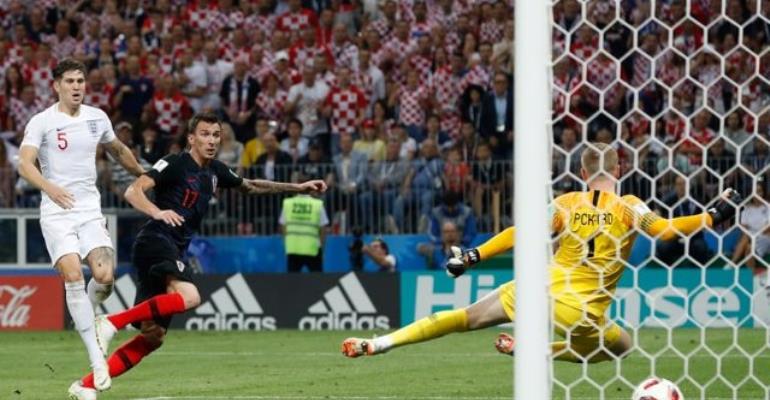 England's bid to reach a first World Cup final since 1966 came to an agonising end as they lost in extra time to Croatia in Moscow.
Juventus striker Mario Mandzukic scored the winning goal in the 109th minute of the semi-final, slotting in from Ivan Perisic's flick-on into the area.
Here are 11 things we learned.
TRIPPIER SETS THE PACE
Kieran Trippier's 5th-minute free-kick goal was the first direct free-kick scored in the knock-out stage during the 2018 world cup. What a way to open his goalscoring account for England. He joins David Beckham as the only English players to score directly from a free kick in a world cup knock out game.
TRIPPIER SITS AT THE TABLE OF MEN
Kieran Trippier's goal means that he joins David Beckham to become the only English players to score directly from a free kick in a world cup knock out game.
ENGLAND'S DEFENSIVE SET-UP
Without the ball in the first half, the English deployed a 5-3-2/ 4-4-2 formation which had a telling effect on the Croats. It prevented the Croats from making good use of the flanks which they normally do. Ante Rebic and Ivan Rakitic were closely watched and it prevented them from having a decent effect on the game in the first half.
MODRIC TAMED IN THE FIRST HALF
England's first half organization was key in preventing Luka Modric from influencing the game. He hardly had touches in the first half as the English men did well to cut off passing lanes leading to him. He had a better game in the second half as well as during extra time till he was substituted.
ENGLAND'S SET-PIECE RECORD
With Kieran Trippier's goal, England has set the record for the most set-piece goals at world cup since 1966. England has scored 9 goals from set-pieces. The goal breaks the record of 8 set piece goals which was jointly held by England and Portugal in 1996.
ONE LAPSE, ONE GOAL
The English generally defended well but on the two occasions they lost awareness of the movement and positioning of the Croatian attackers, they got punished. That should tell you about the efficiency of the Croats.
ENGLAND RATTLED
Ivan Perisic's goal destabilized England's set-up. After the goal, the English looked a bit disorganized and lost a lot of the second balls. They were also unable to keep with up the pace of Croatia's play as the Croats began to find gaps in their defensive set-up and created more chances to win.
CROATIA DID MORE TO WIN
In the end, the Croats did more to win. They had 54% of the ball possession, came up with 22 goal attempts of which 7 were shots on goal. They also made good use of the flanks and proved that they are a complete team with all-around efficiency.
SO CLOSE YET TOO FAR
Kieran Trippier's opening goal gave England a glamour of hope which didn't materialize into reality. The problem? England has been decent but their weakness has been an inability to score goals from open play as well as create genuine goal scoring opportunities aside from their set-piece threats. In the end, England managed only 1 shot on goal and just didn't do enough to book a place in the finals. Note that England scored 9 of their 12 goals from set-pieces.
THE CURSE OF THE SEMI-FINALS
With this loss, England has now lost 4 of their last semi-finals in major tournaments.
STERLING HASN'T BEEN STELLAR WITH HIS PERFORMANCES
Can someone tell me the effect Rahim Sterling has had on this English team? I honestly think that he didn't do much to justify his continuous selection by Gareth Southgate.