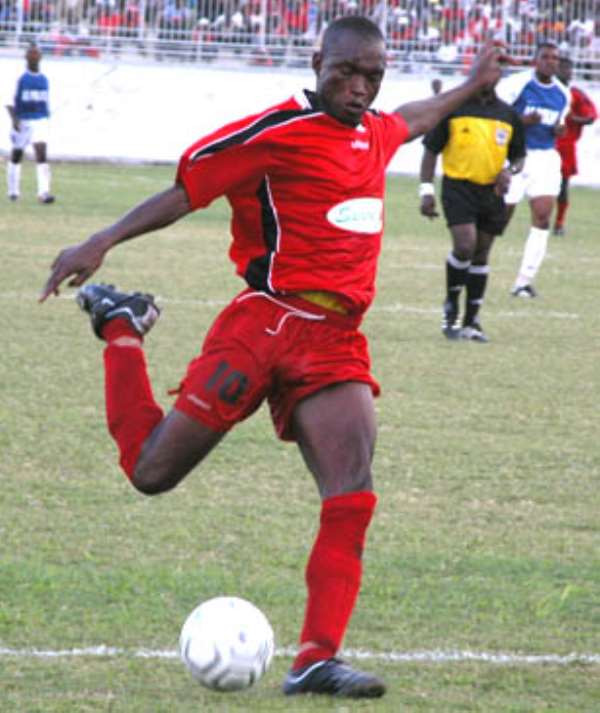 Kumasi Asante Kotoko stiker Shillah Alhassan who disappeared from Ghana football has returned to Ghana after having a taste of Gabonese football.
Speaking in an exclusive telephone interview with AUTHENTIC KAPITAL SPORTS from his native home town of Tamale this morning Shillah regreted media reports that he had vanished from the camp of Kotoko without the concent of the management of the club.
"I am educated and matured enough to decide to desert the club without permission" he siad.
"After the end of Kotoko's campaign in Africa last year,a UK based soccer agent who had been monitoring my performance expressed interset in sending me on some justifiers in Tunisia, Gabon and France.
All of these arrangements were made known to the Major Larson administration,but i realised that they were delaying the proccess and i needed to give the opportunity a trail", he added.
Shillah explained that he therefore took the chance not knowing his immediate fate with Kotoko and with just two months to go on his two year contract.Adding that nobody had shown interest in renegotiating his then about-to-expire contract.
He said he went on a couple of justifiers with his agent to Boudeox in France and Tunisia before taking a four-month contract with Gabonese first division side STATE MAGI which he helped to come second at the end of the league season. He expressed grave concern about why anybody could imagine that he changed his name to play football in Gabon,stressing that that will surely be childish for any professional footballer to, knowing the implications of such a move.
The player said he heard and read with sadness in his heart the difficulty with strikers of the team in scoring goals.On the situation of fellow sriker Nana Ahin Dua's inability to find the net in the on-going GT Premier League,Shillah said it is so unfortunate but added that the player needs all the support of the family of the team. He said strikers need to partner hard and tough players up front to fight for balls for them to score.
Nana Ahin Dua, he said in lacking such support because the current crop of forward linners are not strong and experience enough to assist him upfront ,hence his inability to find the net.
Asked what his immidiate plans are,he said he is coming back to Kotoko to seek a proper arrangement and negotiation with the teams officials to see how things go before settling down with the team. He stressed that anything is very possible for him but he will give Kotoko the first opportunity to sign him on before considring other options.