2018 World Cup: Colombia 1-1 England (3-4 Pens): Seven Things We Learned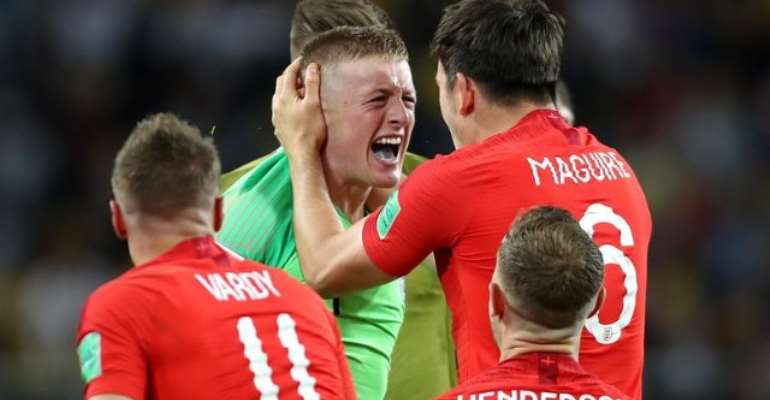 England ended the World Cup penalty jinx by knocking out Colombia on spot kicks to reach the quarter-finals.
Here are seven things we learned.
ENGLAND'S DEFENSIVE ORGANISATION
In the first half, Gareth Southgate's men quickly transitioned to a back 5 when the Colombians crossed the centre circle with the ball. Raheem Sterling and Harry Kane offered the first wave of pressure whiles, Jesse Lingard, Jordan Henderson and Dele Alli formed a midfield trio in front of the 5 man defence. They didn't leave anything to chance as they were wary of the attacking trio of Juan Cuadrado, Radamel Falcao and Juan Quintero who were relying on counter-attacks.
THE TEMPO OF THE GAME
The first half of this game was reminiscent of France versus Denmark game. Both the English and Colombians were afraid to seize the initiative and in effect, the football on display was very dour. It was a very tense first half, filled with less goalmouth action. It was a very tactical game as both teams were more cautious than adventurous. The intensity was also nothing to write home about as at some point, we saw the return of "WALKING FOOTBALL". The game was begging for a goal in order for it to lighten up.
ENGLAND, ALMOST SPAIN-LIKE
England dominated the first half possession with 53% but it was characterized by a lot of backwards and sideways passes as they sought to play out the back. The build-up play was very slow and the English men failed to pressurize the more conservative Colombian side. They should have upped the tempo when they got into Colombia's defensive third but it never happened.
CARLOS SANCHEZ LIVING IN THE 15TH CENTURY?
Carlos Sanchez ensured that he had a very 'memorable' tournament by conceding 2 penalties in 3 games. With VAR in full force, it was amazing to see Carlos Sanchez wrestle Harry Kane in the penalty area. It was as if Carlos wasn't aware of the fact that there are Video Assistant Referees in the world cup. He let his team down again, just like he did against Japan. He was saved by Yerry Mina's last-gasp headed equalizer.
THE GAME COMES ALIVE
After England scored, the game came alive. Jose Pekerman switched to a back 3 and brought On Carlos Bacca to complement Radamel Falcao. He also brought on Uribe Mateus and Muriel Luis to add some steel to their midfield. The tempo and the intensity of the game increased.
ENGLAND DEFIES ALL ODDS
England finally gets their first victory in 4 attempts in a world cup knock-out game from penalty shoot-outs.
RAHEEM STERLING YET TO SPARKLE
Yet again, Sterling didn't come to the party. He hasn't been able to replicate the excellent form he displayed at Manchester City and just maybe, Gareth Southgate might consider dropping him to the bench. He has not repaid the enormous trust and belief Southgate has shown in him.