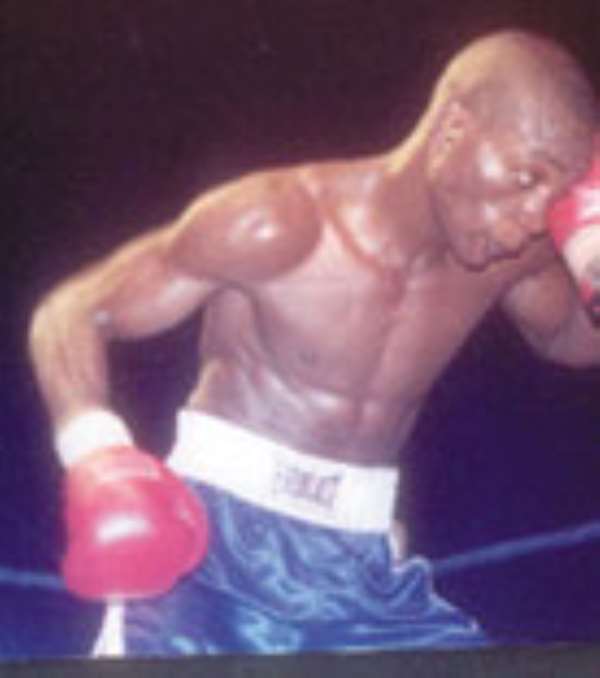 Accra, Sept. 19, GNA - Raymond Narh, former National and West Africa Super Featherweight and Lightweight champion has dismissed rumours making rounds in the boxing circles that he was knocked out in a championship fight last month.
Speaking to the GNA Sports from his base in the United States of America (USA), the aggrieved boxer said the fight against a US opponent could not come on due to the hospitalisation of the promoter, Jonny Savedick.
Explaining reasons why his fight, which was the main bout on the bill together with other fights were cancelled, the boxer said the promoter underwent a hernia surgery and was not in the best of physical condition to control affairs and had no option than to call it off for another day.
He said the fight was originally fixed for August 6, but had to be adjourned for the second time to August 27 as a result of the poor physical condition of the promoter.
Narh who now holds the North America Boxing Council (NABC) Lightweight title, wondered how he could be defeated in a fight, which never materialised adding that people peddling the rumour have negative intentions for him.
The boxer noted that another fight has been arranged for him in October against an Argentine opponent.
Narh promised to end the fight before the twelfth round to prove to Ghanaians that he is a world title material.
He revealed to the GNA Sports that plans are far advanced for him to take up a world title shot by the close of the year. According to the boxer, he would definitely bring down a world title on his next return to Ghana.
Pundits have tipped Narh as one of the world title hopefuls of the nation following his excellent exploits from the amateur days where he once picked a gold medal at the Commonwealth Games in Malaysia in 1998 and a silver medal at the subsequent Olympic Games.
Narh holds an enviable record on the local scene and is on record to have demolished former Super Featherweight champion, Smith Odoom.