NGO Divine Grace Africa Out To Promote Peace And Sports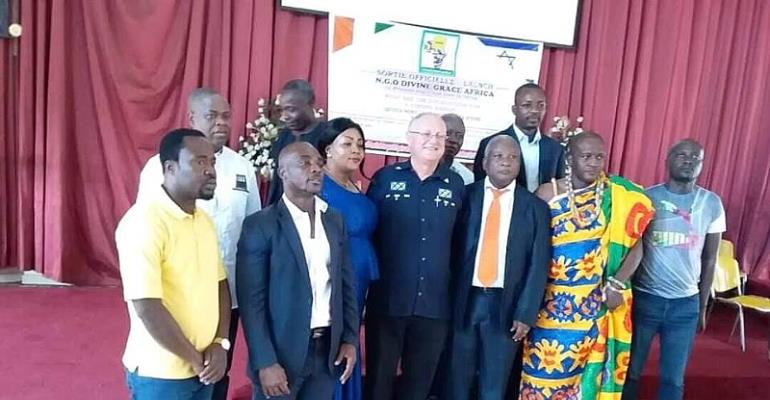 Perfect Doukrou, President of the Africa Kickboxing Confederation Zone 3 West Africa who is also the President / founder of the Divine Grace Africa Organisation, an NGO to promote peace, unity and love among Africans has thanked all guests and patrons who attended the launch and seminar last Saturday at the Ebenezer Assembly of God Church at Kotobabi in Accra.
"In my personal name and on behalf of all my collaborators, I would like to thank you all through this communiqué," he said.
"Our sincere recognition for your support of various natures. May our God, Abraham's God bring us further advantage, so that spiritually and physically we can benefit all divisions that participate in our divisions.
"Let the Lord of the armies give us the strength to work towards the advent of real nation-states in Africa.
For more information please contact us inbox or email for anyone interested in joining the reflexion platform" he expressed.
Rev. John B. Ghartey, the resident and senior pastor of the church advised the youth to know God, obey their parents and elders as well as be good citizens.
The Ambassador of Israel, His Excellency Mehl, encouraged the initiatives for the promotion of peace and unity of African peoples as it invites Africans to have more union by banning individualism in their communities; for the union is making force. The Secret and strength of the Jewish people is found in the sacred union.
Minister Émile Guirieoulou from La Cote d'Ivoire was accompanied by several members of the coordination of the Ivorian people's front in exile to attend the official launch of the activities of the NGO "Divine Grace Africa" leading the champion of kickboxing, côte d ' Ivoire
Israel's ambassador to Ghana H.E. Ami Mchl, the Ambassador of Israel was at this ceremony to reveal what could be called the secrets of the nation of Israel. How his country that suffered exile, deportation, hunger, wars and others has been reconstituted to be a global power today. Segments of a history that could serve other peoples as he had himself to emphasis, insisting on unity and patriotism. The participants, including the Ghana Kickboxing Supporters Union (GKSU) took good notes and were very happy.
The speakers for the day were H.E. Ami Mchl, the Ambassador of Israel, Rev. Dr John B. Ghartey, General Secretary of Assembly of God and Dr Dago Emery Raoul, Doctor of Philosophy and Consultant in Communication at the University of Cocody-Cote d'Ivoire.
Also in attendance was the President of Ghana Kickboxing Association and Sempe Sakaman Mankralo, Nii Adotey Dzara I who urged the member of the NGO to come together and plan to make their dreams and aspirations come true.
The new NGO will use various positive means such as sports (Martial Arts, Kickboxing & Boxing), entertainment, arts and culture to maintain peace and unity among African neighbours.