Nigeria 1-2 Argentina: Five Things We Learned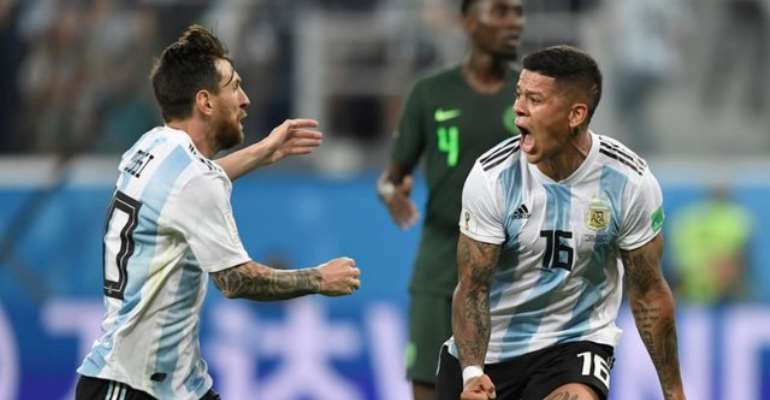 Marcos Rojo scored a brilliant late volley to send Argentina through to the last 16 of the 2018 World Cup with a dramatic victory over Nigeria in St Petersburg.
Messi's Birthday, The Missing Key?
Messi's first 2 games in the World Cup were definitely games to forget. His body language has looked rather flat at times and his desire has been questioned. However, after celebrating his 31st birthday during the week, Messi seems to have found a new spark. Against Croatia, he managed 47 touches in the entire game but against Nigeria, he accumulated 41 touches only in the first half and scored the first goal. Messi looked more confident and more like the Messi we've grown to see.
Nigeria's Strategy
In the first half, Nigeria was more interested in marking spaces in their defensive third. This meant that Argentina had enough space to pass the ball around and were totally dominant in the midfield. The pressing from the midfield trio of Mikel Obi, Etebo and Wilfred N'didi was not forceful enough. Messi sneaked in-behind a high defensive line and scored the first goal. Nigeria was always living on the edge and were very fortunate to go into halftime only a goal down. In the second half, Nigeria was more forceful and pressed with more energy but after the equalizing goal, Nigeria repeatedly switched between a back 5 and a back 6 and relied on counter attacks. Nigeria will rue their missed opportunities as they had several chances to go 2-1 during counter attacks. They stayed compact in the middle and forced Argentina wide. Unfortunately, it was a cross from the right flank which resulted in Nigeria's winning goal.
Argentina's Tactical Changes
Jorge Sampaoli ditched the 3 back system and opted for a 4 back. This was in response to their horrid performance against Croatia. It proved effective as Argentina played better and moved the ball faster. They appeared more comfortable with a 4 back formation and had better off the ball movements. It is of notable mention that both of Argentina's goals were from intelligent movement to outwit the Nigerian defence. Di Maria and Ever Banega were also introduced into the starting lineup in order to add more creativity and pace to the Argentinian forward play.
Argentina Has The Antidote For African Teams
Argentina has lost once in 6 games against African opposition in the world cup with their only loss coming against Cameroon during Italia 1990. Argentina has now beaten Nigeria in 3 consecutive world cups: 2010 [1-0], 2014 [3-2] and now, 2-1.
Another Last Gasp Goal
Again, an African side conceded a late goal. We have spoken about this issue a countless number of times but the situation hasn't been rectified. It is a worrying trend which leaves question marks on the levels of concentration and leadership in the African teams.