Feature: West Africa Had A Very Good World Cup Week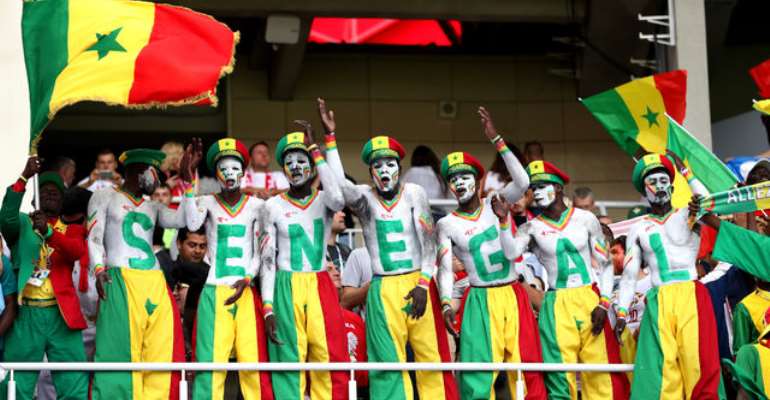 Ghana's Black Stars failed to qualify for the World Cup this year, which is a tragedy not only for me personally as a half-Ghanaian, half-Nigerian child of immigrants but also for African football (more on that later).
Which means, time for me to root for the rest of the sub-Saharan African teams! (Egypt, Tunisia and Morocco all lost their bouts)
Thankfully, Nigeria and Senegal did not disappoint this bandwagoner this week. Senegal's spirited offense led to a 2-1 win over Poland, making Senegal the first African team to win in Moscow this year. The Senegalese contingent even helped clean up the stadium after the match. Nigeria's Super Eagles came back from a loss to Croatia last Saturday to defeat Iceland on Friday, 2-0. On Sunday, Senegal tied with Japan, 2-2.
Nigeria and Senegal have already blessed this World Cup fan for other reasons. Nigeria's World Cup jersey is the must-have of the 2018 games: Nike fielded 3 million pre-orders of the World Cup kits before the June 1 release date; the collection sold out in minutes. A quick scan of the @NikeUK Twitter timeline reveals the brand having to inform disappointed fans about not having any jerseys available.
Senegal's win birthed a new Internet hero: head coach Aliou Cissé. Not only is he the only black coach at the Moscow games, the 42-year-old is the 2018 tournament's youngest head coach.
He was the captain of the Senegal squad that defeated the nation's former colonizer France in the 2002 games.
And beyond his athletic and coaching talents, Cissé's fist-pumps and celebrations have been a gift to the Internet's meme-ists this week.
However, Cissé's words about his squad, the Lions of Teranga, are also striking.
In a pre-tournament interview with FIFA, he was quoted as saying, ''We would also love to reach the quarter-finals. … We've got a young squad with a lot of talent, but they lack experience at the highest level. We'll have to go there without an insecurity complex, play our natural game and stick to our African identity, which defines our football.''
Indeed, as Musa Okwonga noted at the New York Times, the legacy of colonialism has left Africa ''poor and politically fractured.'' Coupled with the brain-drain effect of migration, Africa is ''not exactly fertile ground for intense training and football greatness.''
Anti-black, anti-African racism can't be ignored, either. Via Twitter, BBC journalist Piers Edwards documented the Russian police conducting sweeps of Senegalese fans' rooms to figure out why they were dancing so much after defeating Poland.
BBC presenter Alan Sugar was forced to apologize after tweeted a photograph of the Senegal squad and compared them to migrant peddlers on the beaches of Marbella, Spain.
Even after Nigeria won, the headline of a Guardian article read: 'Nigeria's Ahmed Musa Punishes Wasteful Iceland to give Argentina Hope,' as if Nigeria won only because Iceland messed up.
In the first half, Nigeria's 19-year-old goalkeeper (the youngest in the tournament) Francis Uzoho made crucial saves.
Nigeria simply played better, more energetic football in the second half against the older Iceland team; Musa's two goals were spectacular.
When African teams win, often more credit is given to their physical attributes than tactics or strategy. When asked if the Japan-Senegal matchup would be brains vs. brawn, Cissé responded, 'The physical quality of Senegal versus the technical quality of Japan … I won't describe it that way. They know how to put pressure on players who have the ball so you have to be strong. We also have individuals with higher-than-average technical qualities, and we'll prove it.'
Ahead of the 2014 games, Ghana was the team that had knocked out the United States in the previous two World Cups. As I wrote four years ago, a 2014 Wall Street Journal article with the headline 'Why Can't the U.S. beat Ghana?' referred to Ghana as 'impoverished.' The article called the Ghanaian team 'athletic and frightening' and mentioned the 'haunting image' of Ghana's Asamoah Gyan 'emasculating' the United States' Carlos Bocanegra; referred to Gyan's 'burly chest' and 'rock-hard shoulders'; and said Michael Essien was 'a beast.'
Still, it is true that not all is well in African football. Players often train and compete without adequate resources, playing conditions or national investment in the development of the sport.
Specifically, the plight of Ghana's Football Association does represent the systemic barriers that a number of African teams face, stemming from endemic corruption.
Ghana's last showing, in Brazil's World Cup, was marred by scandal; the country had to fly $3 million in cash to Brazil in order to pay its players and prevent a strike. Four years later, a clearer picture of Ghana's football money woes have appeared.
This month, legendary Ghanaian investigative reporter Anas Aremeyaw Anas released an explosive investigative documentary into the corruption and bribes that plague Ghanaian football.
The documentary showed referees taking money to fix games and members of the Ghana Football association taking bribes.
FIFA council member and Ghana Football Association president Kwesi Nyantakyi was captured on camera allegedly accepting a $65,000 bribe in a hotel room. (He has denied it.)
He also was shown allegedly requesting millions of dollars in kickbacks in return for promising access to lucrative government contracts.
All of this meant that despite the skill or heart of the players on local teams, what ultimately mattered was the club's ability to pay money to fix matches — thereby imperilling players' chances to train and play for the national team.
In response to the outrage over the film, Ghana's government dissolved the Ghana Football Association, and Nyantakyi, who oversaw the GFA (including the Black Stars' World Cup showings), had to step down after being suspended from FIFA.
Some Ghanaians I have spoken to hope Ghana will take whatever time is necessary to clean its football house, even if that means not seeing the Black Stars play in 2022.
I hope that one day Africa will be able to win a World Cup tournament. (And I do hope it can be Ghana's Black Stars.)
But for now, I am happy just that, thanks to Nigeria and Senegal, the continent has had a good week in Moscow.