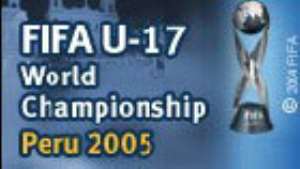 Trujillo, September 16, GNA - The streets of Trujillo in Peru has been remarkably clad in beautiful colours for the commencement of the U-17 Youth World championship scheduled to start on Friday. All roads leading to the Trujillo Sports Stadium, the venue for the Ghana/Peru encounter later on Friday had been closed 300 meters away from the stadium amid tied security.
Only accredited vehicles are allowed to cross the 300-meter road check points to the stadium.
When the GNA Sports visited the stadium Friday morning to access the situation on the ground, the people were in a joyous mood and shouting to the reporter with various predictions of; "Ghana 2, Peru 3", "Ghana 1, Peru 0" and "Peru 4, Ghana 0".
Supporters of the home side were seen busily selling flags and their National Team's paraphernalia in almost all the streets the GNA Sports visited.
In an interview with the GNA Sports, some of the people said Ghana could score Peru but not with a higher goal margin.
Ghana would be playing their matches with no possible supporters from Trujillo or even Lima since there are no Ghanaians resident there. Ever since the Starlets landed in Trujillo on September 11, no Ghanaian or African had emerged to welcome them, apparently the only country in the world to have scarsity of Ghanaians.
But the players and the technical team are confident to earn the maximum respect from the South Americans like their predecessors did in Equador 95,Peru's neighbour winning the Cup.