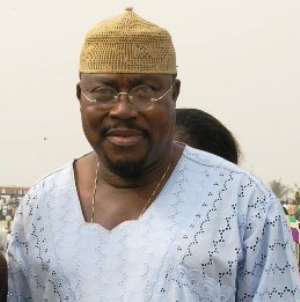 Former GFA Chairman,Dr Nyaho-Tamakloe,has asked that the Black Stars coach be left alone to complete his qualifying campaign with his own team.
But more importantly, he said, players clad in indiscipline and undedicated to the national cause should not be entertained within the perimetres of the team.
"(Ratomir) Dujkovic and his technical staff must be left to complete what they have started without any arm of influence interfering with their work," Dr Nyaho-Tamakloe told the Graphic Sports in an interview.
"The selection of players for the Black Stars should be a reserved prerogative of the coach and that must be respected.
"If he has been able to reach this far with a team he solely guided, it means he is capable of completing the journey on his own," Dr Nyaho-Tamakloe, now Ghana's High Commissioner-designate to Dujkovic's home country, Serbia, noted.
Dr Nyaho-Tamakloe's intervention comes at a time clamour for the recall of some players has hit the roof even within official circles,following the team's virtual qualification for the 2006 World Cup in Germany.
Chief among these players is defender Samuel Osei Kuffour of Italian side Roma, who has not played in the Black Stars since Ghana played Congo DR in Kumasi in October last year,and who is yet to earn his first cap under the Serbian trainer.
"No one is indispensable, and this is an unpleasant truth we must acknowledge," he said.Dr Nyaho-Tamakloe is well remembered for firing 23 established stars when he took over as boss of Accra Hearts of Oak in the late 1980s.
That revolution bore the era of Nyaho Babies, otherwise known as Musical Youth, which featured the likes of Ablade Kumah,Joe Addo,Nanabanyin Crentsil and the late Shamo Quaye.
"It was the understanding of the principle of indispensability which informed that revolution," he said. "One's services might be required at a particular time, but that should not create an idea of indispensability in such a person's mind even if he were most appropriate for the job at one time," Dr Nyaho-Tamakloe opined philosophically.
It was during Dr Nyaho-Tamakloe's term as FA Chairman that Kuffour lost his place in the Black Stars,and looking back he said the coach's decision to exclude the player in the Stars' campaign since April this year appeared an important decision that must have contributed immensely towards the team's success.
"Twice Kuffour complained of his sick wife when he was called to national duty early this year in a friendly against Dutch side Ajax Amsterdam in Holland.
Later when we reached him on phone from Amsterdam,he complained of a toe injury."Immediately, it dawned on us that he was not interested in playing for the national team," Dr Nyaho-Tamakloe said.
The defender who won the UEFA Champions League with Bayern Munich in 2001 has been variously replaced by Dan Coleman and Issah Ahmed,as well as Kofi Amponsah of Greek side Eagaleo,for the games against Congo DR in Kinshasa, Burkina Faso in Kumasi,South Africa in Johannesburg and Uganda in Kumasi.
Pleas for his return into the team, apart from his own frail effort in a television programme last month, caught up with influential voices when Education and Sports Minister,Mr Yaw Osafo-Maafo, asked for pardon for the player after Ghana beat Uganda 2-0 in Kumasi last week.
But Dr Nyaho-Tamakloe said he thought he had tremendous trust in the coach's firmness in sticking to his decisions. "I found a lot in him and so did my colleagues at the time we appointed him.
One of his greatest qualities is that he is not the type to be pushed around," he said of the coach.Despite presiding over the appointment of Dujkovic after Portuguese,Mariano Barreto, left unceremoniously, Dr Nyaho-Tamakloe will watch from a distance when the celebrations for a World Cup berth becomes a reality in October.
Yet he insists that posterity would give credit to the various persons who really deserve a mention in the Black Stars' feat.
Among these,he said,were former sector ministers,Mr Kwadwo Baah-Wiredu and the recently-deceased Osei Kweku, and their deputies, Joe Aggrey and Rashid Bawa, as well as Mr Owuahene Acheampong, a member of the Black Stars Management Team who at one time took full charge of the team alongside Fred Pappoe when others shunned the job.
"There are pioneers in every situation and such people deserve the necessary credit."
He said it was the prudent policies from the beginning which dealt with motivation with particular reference to bonuses and allowances,the decision to adopt Kumasi as sole grounds for the qualifying campaign,and the choice of white as the team's sole colour for their matches which have yielded the required results for which many now find reason to be associated with the Black Stars.