Calls for new paradigm shift in international peace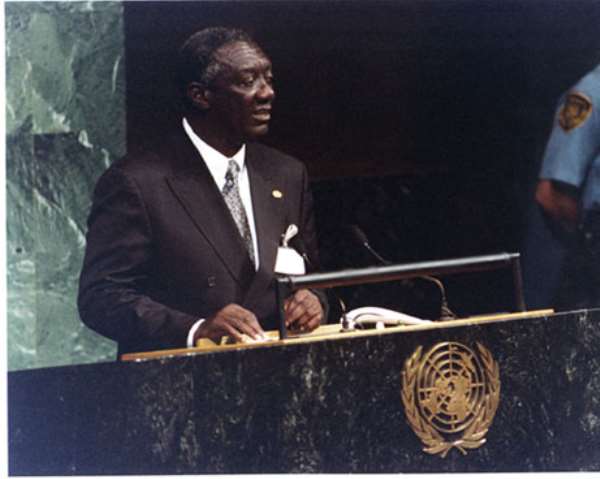 Accra, Sept. 15, GNA - President John Agyekum Kufuor on Wednesday said the challenges confronting international peace and security required a new paradigm of security consensus.
He, therefore, called on world leaders to reaffirm their commitment to multi-lateralism, which underpinned the spirit and letter of the United Nations Charter.
A statement issued in Accra on Thursday by the Office of the Press Secretary to the President said President Kufuor said this in an address to the high-level plenary session of the UN General Assembly in New York.
President Kufuor said: "Terrorism is a 'loose canon' that cannot be justified as a solution for any wrong."
He said the fight against terrorism called for a sustained, firm and strong collective response from the international community. President Kufuor appealed to the international community to banish the scourge of war through addressing issues of disarmament, nuclear non-proliferation and the menace of illicit small arms and light weapons.
He expressed regret that over the past decade the use of such weapons had claimed more than 20 million victims in Africa mostly women and children.
President Kufuor commended the UN for its efforts to bring relief and hope to victims in conflict areas through its peacekeeping operations around the world.
He expressed appreciation for the proposed establishment of a peace building commission to help conflict afflicted countries in transition from war to peace and national reconstruction.
President Kufuor commended the US Government for establishing the Millennium Challenge Account because the full integration of the economies of the developing world into the global economy would demand in the transition that enterprises and companies of that world would be assisted to become more competitive and efficient.
He called for the UN to undergo substantial reforms to enable it to discharge its mandate effectively and enhance its functionality and flexibility. He said the General Assembly needed to be revitalised to enable it to assume its rightful place as the most representative and deliberative organ of the UN.
President Kufuor appealed to the General Assembly to support the African Union's claim for two permanent seats on the Security Council. He commended the UN Secretary General, Mr Kofi Annan for appointing a high-level panel to study the challenges of the world and pledged Ghana's support for his document titled: "In Larger Freedom: Towards Development, Security and Human Rights for All", which advocates the strengthening of the UN's institutions.