Essien lives up to reputation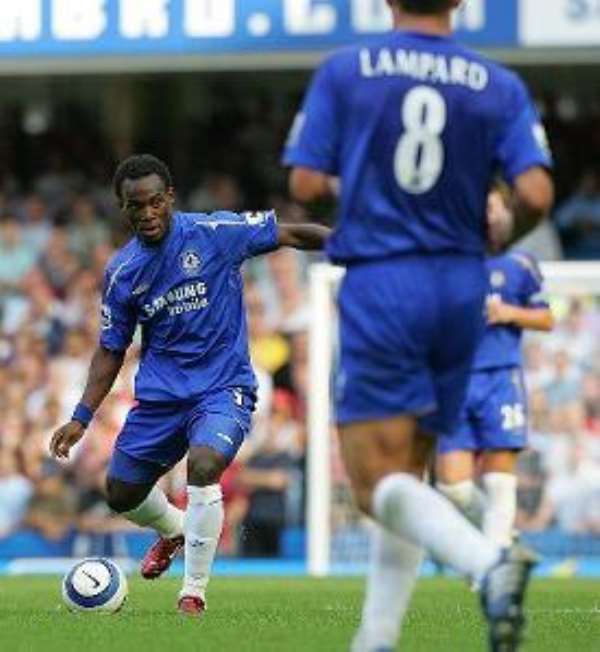 Back in France, they call him the Bison for his incredible strength; football's version of Jonah Lomu, a man who never seems to tire, who runs through brick balls without ever slowing down. No doubt about it, Michael Essien certainly arrived in London with a formidable reputation.
Making his Champions League debut for Chelsea against Anderlecht last night, Jose Mourinho's latest and, at £24.4 million, most expensive recruit lined up in midfield alongside Frank Lampard with Claude Makelele sweeping up behind - a combination that should, nine times out of 10, form Chelsea's first-choice trio as the Premiership champions seek glory at home and abroad.
Straight away, Essien's imposing frame, supported by tree-trunk legs, stood out as a weapon that could do a bit of damage. For a start, here is a player who isn't going to get knocked off the ball too many times. With a low centre of gravity and swift turn of pace, he can shrug off challenges in his stride. Essien loves to use that speed, what's more, to peel off an opponent and tear into the box.
You could see, in fact, how he came about scoring five Champions League goals for Lyon last term. Choosing his moments carefully, this powerhouse found space more than once at Stamford Bridge. When Shaun Wright-Phillips managed to pick one run out after the break, Essien's crisp shot found the side-netting.
As time wore on, he started to look more and more comfortable alongside Lampard in what was only his third start next to the England man, his previous one coming last week as Makelele's replacement against Sunderland. He adjusted without fuss having turned out in every single outfield position over the last few years.
But no one would argue that a more advanced role is ideal for this athletic figure. Proving that last night, he very nearly scored from an early free kick routine. Dashing to the near post, the No 5 got his shot away at the second attempt, a real piledriver of a volley, to force a good save out of Daniel Zitka.
More often than not, though, he was content to sit tight and keep things fairly simple, moving the ball on to the likes of Arjen Robben while making sure that nothing untoward befell his defence. On the odd occasion that Anderlecht did look threatening, Essien tracked back extremely quickly, eating up the ground effortlessly to get in a tackle. Nothing new, this. It's his favourite party piece.
Team-mates at Lyon and his previous club, Bastia, talk of a calm, reserved character who loves a good kip but one who turns into a monster once on the pitch. Even during training he doesn't let up, flying into tackles, barging over pals. He doesn't, it seems, know any other way.
Mourinho will love that. It would have been a major part of the reason why, after failing to land Steven Gerrard, Chelsea's manager kept plugging away to secure his target, breaking Chelsea's transfer record to bring this hungry 22-year-old into the fold.
In many ways Essien fits Mourinho's perfect photo-fit - a disciplined individual who respects the team ethos, who won't kick up a fuss should he ever get dropped.
That shouldn't, however, happen very often. At his best, the Ghana international could be described as a cross between Makelele and Patrick Vieira, his two favourite players; someone who can seek out and destroy, using muscle and keen defensive instincts, but also prove dangerous going forward with an eye for goal.
Mark him down this season for a 10-goal haul as he settles fairly quickly into the rhythm of English football. Don't worry about Essien. He's going to do just fine.