Zakari is Second In Monaco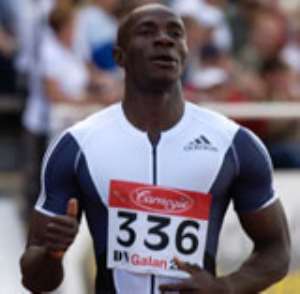 GHANA'S long jump star Ignatius Gaisah missed out on the medal podium for the first time in the history of the IAAF Grand Prix final. But sprints king Aziz Zakari was just one-hundredth of a second away from history when Trinidadian Marc Burns denied him glory on the final day of the IAAF Grand Prix final in Monaco.
Zakari, a perennial underachiever at the big stage was powering home to victory in the men's 100 metres final when Burns pipped him on the finish line in a time of 10.00 seconds.
The Trinidadian got the verdict in a photo-finish, leaving Zakari and American Dwight Thomas, both times 10.01 seconds, to win silver and bronze respectively.
Although not his fastest time this year, Zakari got a deserved consolation after repeatedly disappointing at major competitions. Last month he finished last in the 100m final at the world championships in Helsinki, Finland.
Zakari and Trinidad's Darrel Brown got the best starts but Thomas made up ground in the second half of the race and appeared to have done enough to win at the close.
But late lunges from Burns and Zakari relegated him to third on the line.
At first Thomas, in lane five, thought he had won and began to celebrate as his name appeared on the giant scoreboard.
But he had been concentrating on Zakari in the lane next to him and did not see Burns in lane eight as the Trinidadian stuck his chest out for the victory.
There were few surprises in Monaco including Gaizah's failure to win a medal in the long jump event dominated once again by Olympic and world champion Dwight Thomas.
As the pinnacle of the athletics calendar, Monaco has turned out to be a favourite meeting ground for Gaizah and he went to the Principality in confident mood as defending champion, but the world championship silver medallist finished fourth with one of his worst performances.
The Ghanaian could only leap 8.23 metres in his first jump and in subsequent attempts his technique deserted him and failed to put up any credible challenge.
Philips, who lost to Gaisah in last year's event, last Saturday stamped his authority on the event with a championship record jump of 8.46 metres to beat fellow American Miguel Pate (8.30m) to second place and Jamaican James Beckford (8.28m to win bronze).
Unlike 2003 when he won a bronze and last year when he won the top prize, Gaisah failed to save his best for last and left Monaco empty handed.