Michael Osei's Profession On The Line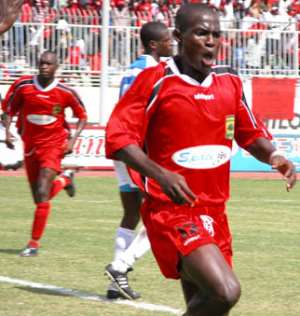 The Technical Director of Dansoman-based Liberty Professionals,Sir Cicil Jones Attuqueyfio has expressed worrie over the future of the clubs suspended striker Michael Osei.He said contrary to interpretations of the FIFA four month ban on the player for taking an amount of 40,000 from Korean side Bosan I'Park but failed to play for the team that the player will be free to ply his profession after the ban the reality of the case is entirely different.Jones Attuquayfio explained on AUTHENTIC KAPITAL SPORTS that the player is expected to refund the entire amount to the Korean Club after the ban.
He said unfortunately those who fronted the deal on the innocent player's behalf and got away with a bigger chunk of the money are failing to help save the situation by coming out to explain the details of the contract between the two parties for pragmatic measure to be instituted towards solving the matter. Michael Osei reportedly got about 15 thousand dollars out of the 40 thousand dollar deal.